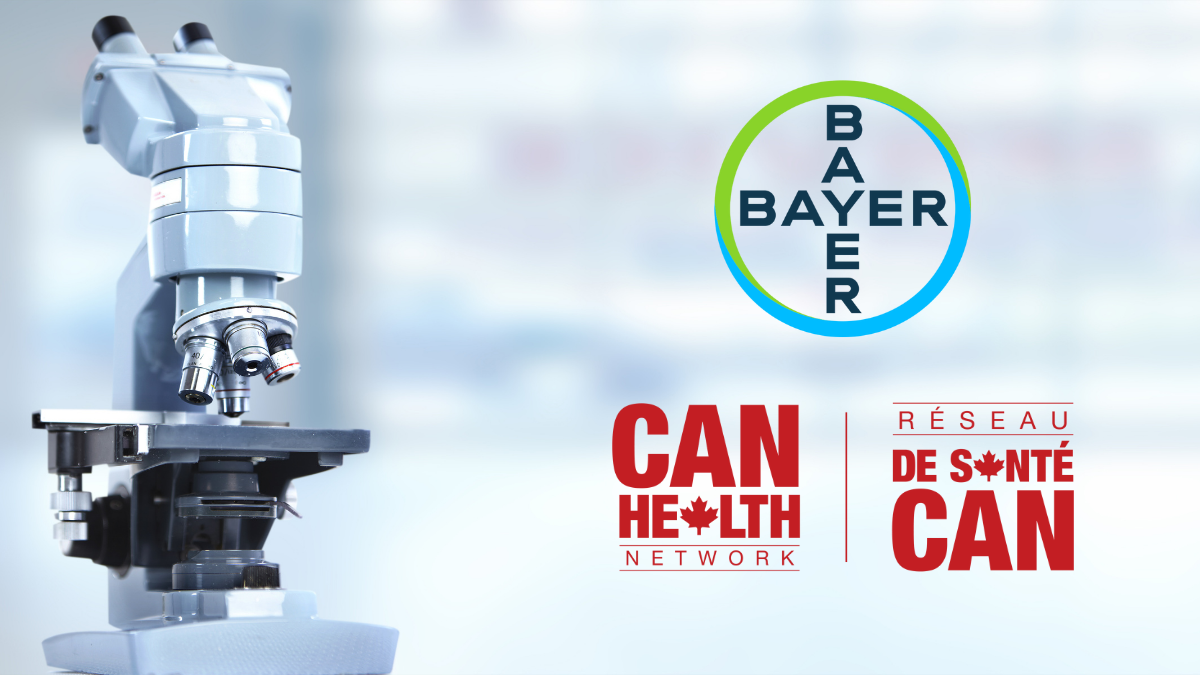 March 9, 2022 (Toronto, Ontario) – Bayer Inc., the Canadian arm of the global life sciences company Bayer, is supporting the Coordinated Accessible National (CAN) Health Network to help advance patient care across Canada through innovative technology solutions.
As a CAN Health Network partner, Bayer will help identify opportunities to introduce new technology into Canadian health care that will improve the quality of care, while creating efficiencies for a more equitable system. Combining intelligence and resources allows CAN Health and Bayer to support a larger number of Canadian companies and more rapidly introduce modern technologies to patients and staff across the country.
The CAN Health Network works directly with health-care organizations across Ontario, Western and Atlantic Canada to identify their biggest challenges and match them with Canadian-made technology solutions. The ultimate goal of this integrated market is to enable Canadian companies to be rapidly validated, procured, and scaled across the country and abroad. This not only supports the advancement of Canadian companies, but it ensures patients and staff across Canada are getting access to leading-edge health innovations.
"CAN Health's diverse partnerships, like this one with Bayer, have the ability to help transform Canada's health-care system by exploring new opportunities for innovation," said Dr. Dante Morra, Chair, CAN Health Network
"The opportunity to work with the CAN Health Network is very exciting. This partnership aligns with our commitment to supporting the health of Canadians and we look forward to seeing this relationship unfold." James Stretch, Business Unit Head, Ophthalmology, Bayer Inc., Canada
ABOUT CAN HEALTH
The CAN Health Network is a Canada-first approach to technology adoption. It helps break down barriers to scaling in the health-care system and provides an environment for companies to scale to their full potential. Currently operating in Ontario, Western and Atlantic Canada, the CAN Health Network plans to expand to Quebec and the North. The Network has received $3.5 million in 2019 and $3.25 million in 2021 from the Federal Economic Development Agency for Southern Ontario (FedDev Ontario), $3.5 million from PrairiesCan and PacifiCan, and most recently, $2.2 million from the Atlantic Canada Opportunities Agency to build a national platform that harnesses the purchasing power of health-care organizations. To learn more about the CAN Health Network, visit www.canhealthnetwork.ca
ABOUT BAYER
Bayer is a global enterprise with core competencies in the life science fields of health care and nutrition. Its products and services are designed to help people and planet thrive by supporting efforts to master the major challenges presented by a growing and aging global population. Bayer is committed to drive sustainable development and generate a positive impact with its businesses. At the same time, the Group aims to increase its earning power and create value through innovation and growth. The Bayer brand stands for trust, reliability and quality throughout the world. In fiscal 2020, the Group employed around 100,000 people and had sales of 41.4 billion euros. R&D expenses before special items amounted to 4.9 billion euros. For more information, go to www.bayer.ca
Sign up for email
Error: Contact form not found.