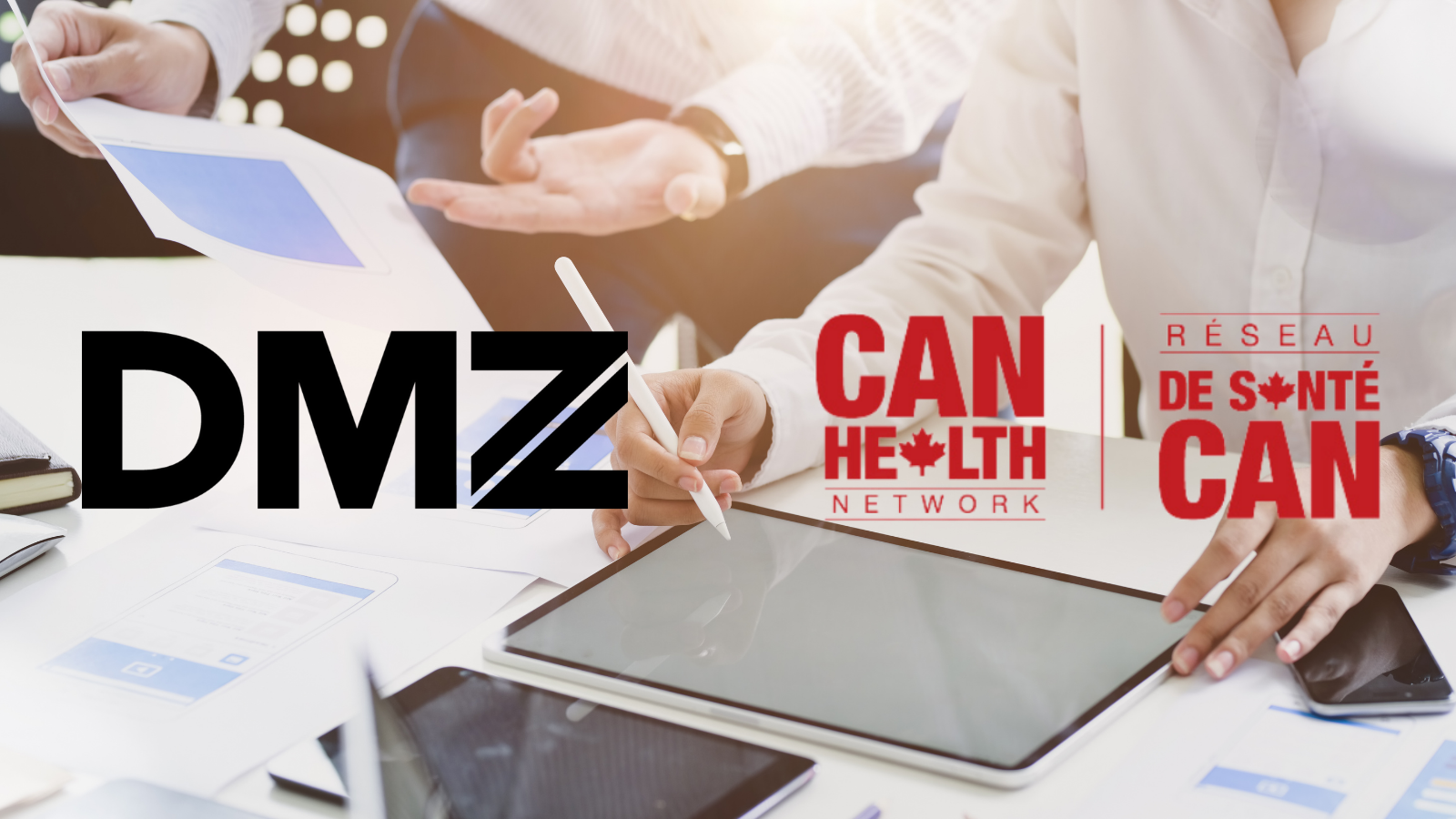 October 4, 2021 (Toronto, ON) – The Coordinated Accessible National (CAN) Health Network and the DMZ are announcing a partnership to support growth opportunities for made-in-Canada tech solutions in health care.
Supporting Canadian companies to scale their solutions, the partnership will remove barriers to growth and technological advancement in a challenging market, while creating and maintaining jobs in Canada and providing a boost to the country's economic recovery.
In collaboration with CAN Health, the DMZ can introduce potential solutions to the Network, while CAN Health has the opportunity to grow the number of viable made-in-Canada solutions in its ecosystem. Both the DMZ and CAN Health have already successfully worked to support and scale companies in common, including Toronto's Verto Health who has undertaken two CAN Health commercialization projects with their platform, at Unity Health Toronto and Hamilton Health Sciences.
The DMZ connects early-stage startups with customers, capital, experts and a community of entrepreneurs to help them validate, build and scale their business. The CAN Health Network works to enable Canadian companies to be rapidly validated, procured, and scaled across the country and abroad. By working directly with healthcare operators to identify their biggest challenges, CAN Health partners them with Canadian-made technology solutions.
"Marketplace barriers are a real obstacle for startups looking to enter new markets, and can act as a deterrent for new competitors," says Sherif El Tawil, Senior Director of Programs and Partnerships at the DMZ. "We're thrilled to be partnering with the CAN Health Network and opening new doors for our companies. Through our collaborative efforts, we are giving them direct access to a Canadian-wide network of professionals, while supporting the charge for a digital health care economy."
"The DMZ's impressive community of Canadian startups and entrepreneurs provides an important opportunity for our Network," says Dr. Dante Morra, Chair, CAN Health Network. "Together, our combined programs, resources, and opportunities will help provide Canadian companies with the competitive edge required to succeed at home and abroad."
ABOUT THE DMZ
The DMZ is a leading startup incubator equipping the next generation of leading tech entrepreneurs with the tools needed to build, launch, and scale highly impactful startups. By providing connections to customers, coaching, capital, and a community, the DMZ's customized approach helps innovators reach the next milestone in their entrepreneurial journey – whatever that might be. Through its award-winning programming, the DMZ has helped more than 600 startups raise $1.40 billion in capital and create 4,400+ jobs. Headquartered in Toronto, Canada with globally-accessible programming, the DMZ has a widely-recognized international presence with offices in Vietnam and India, and partnerships across North America, Latin America, Africa and Asia. Learn more at dmz.to.
ABOUT CAN HEALTH NETWORK
The CAN Health Network is a Canada-first approach to technology adoption. It helps break down barriers to scaling in the health care system and provides an environment for companies to scale to their full potential. Currently operating in Ontario, Western and Atlantic Canada, the CAN Health Network plans to expand into Quebec and the North. The Network has received a total of $12.45 million in funding from the Government of Canada to build a national platform that harnesses the purchasing power of health care organizations. To learn more about the CAN Health Network, visit canhealthnetwork.ca.
Sign up for email
Error: Contact form not found.