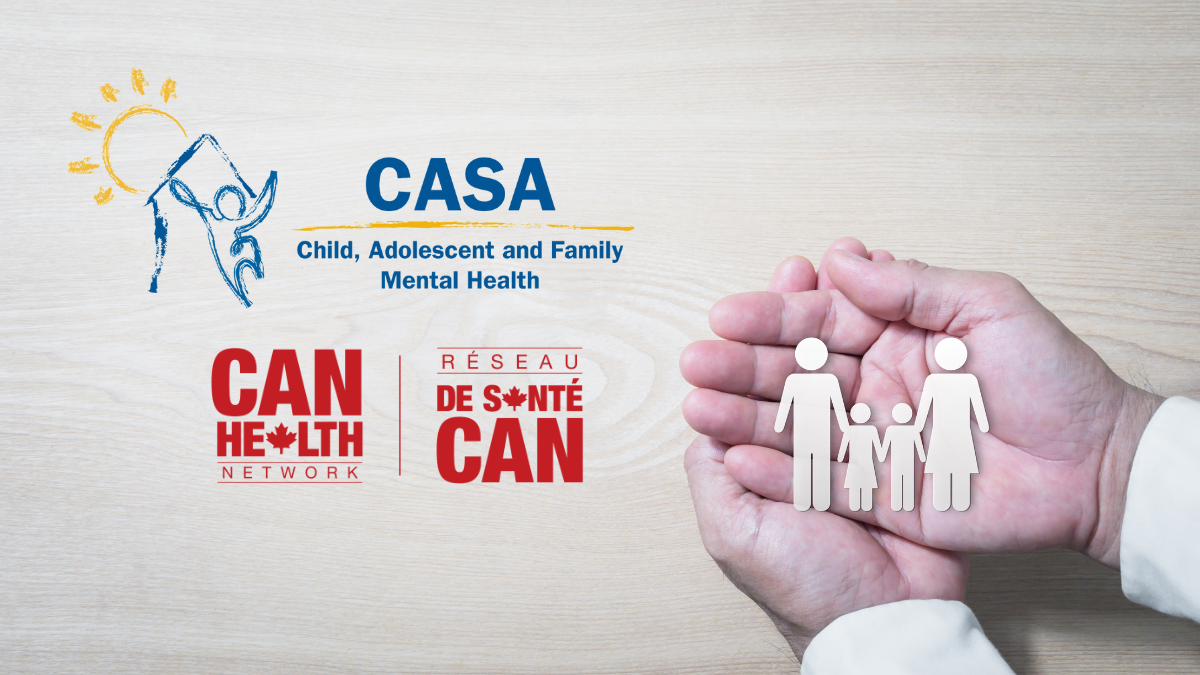 July 26, 2022 (Edmonton, Alberta) – The Coordinated Accessible National (CAN) Health Network is pleased to announce that CASA Child, Adolescent and Family Mental Health will be joining the Network in an effort to expand its unique programs and services throughout Alberta and across Canada.
The CAN Health Network is a federally funded Integrated Market working to introduce more Canadian innovation into Canada's health-care system. Comprised of 29 health-care operators (called Edges) from across the country, the Network helps identify health-care's biggest challenges and solve them with proven homegrown solutions. The ultimate goal is to enable Canadian companies to be rapidly validated, procured and scaled across Canada and abroad, starting with Edges in the Network.
As the Network's first and only Edge dedicated solely to mental health services among children and youth, partnering with CASA gives the CAN Health Network and its members an opportunity to explore a wider range of innovative solutions for this particular area of the health-care industry.
"We're extremely excited to be working with CASA," says Dr. Dante Morra, Chair of the CAN Health Network. "Joining forces with an organization that offers such niche services will be a major benefit to Edges, companies and partners in the Network who are looking to advance their current mental health initiatives."
Based in Edmonton, Alberta, CASA is a non-profit organization delivering holistic, culturally safe wrap-around mental health services to children, adolescents and their families across the province. CASA provides assessment and treatment services for up to 4,000 children and adolescents each year through approximately 20 programs and specialized services.
Partnering with the CAN Health Network will enable CASA to run projects with Canadian companies who have new, innovative solutions that will help fuel its efforts to expand throughout Alberta over the next three years and double the amount of children it helps per year.
"CASA's new five-year journey to reach more kids and families – and to bring mental health service closer to where they are – is a perfect challenge that can be met through innovative solutions" says Bonnie Blakley, CASA Chief Executive Officer. "CASA is so excited to learn and share expertise as part of the CAN Health Network, because families across Canada need mental health support more than ever before."
-30-
ABOUT THE CAN HEALTH NETWORK
The CAN Health Network is a Canada-first approach to technology adoption. It helps break down barriers to scaling in the health-care system and provides an environment for companies to scale to their full potential. Currently operating in Ontario, Western and Atlantic Canada, the CAN Health Network was recently awarded $30 million by the Government of Canada as part of Budget 2022 to expand into Quebec, the Territories and within Indigenous Communities. To learn more about the CAN Health Network, visit www.canhealthnetwork.ca
ABOUT CASA
CASA Child, Adolescent and Family Mental Health is a trusted non-profit organization based in Edmonton delivering holistic, culturally safe, wrap-around mental health services to approximately 4,000 children ages three to 18 and their families each year. CASA achieves this through a team of specialized mental health professionals and trauma experts committed to delivering outcomes-based programming in collaboration with community partners. Its vision is a community where all children and their families are provided access to timely mental health care and empowered to thrive. To learn more about CASA, visit www.casaservices.org/
Sign up for email
Error: Contact form not found.