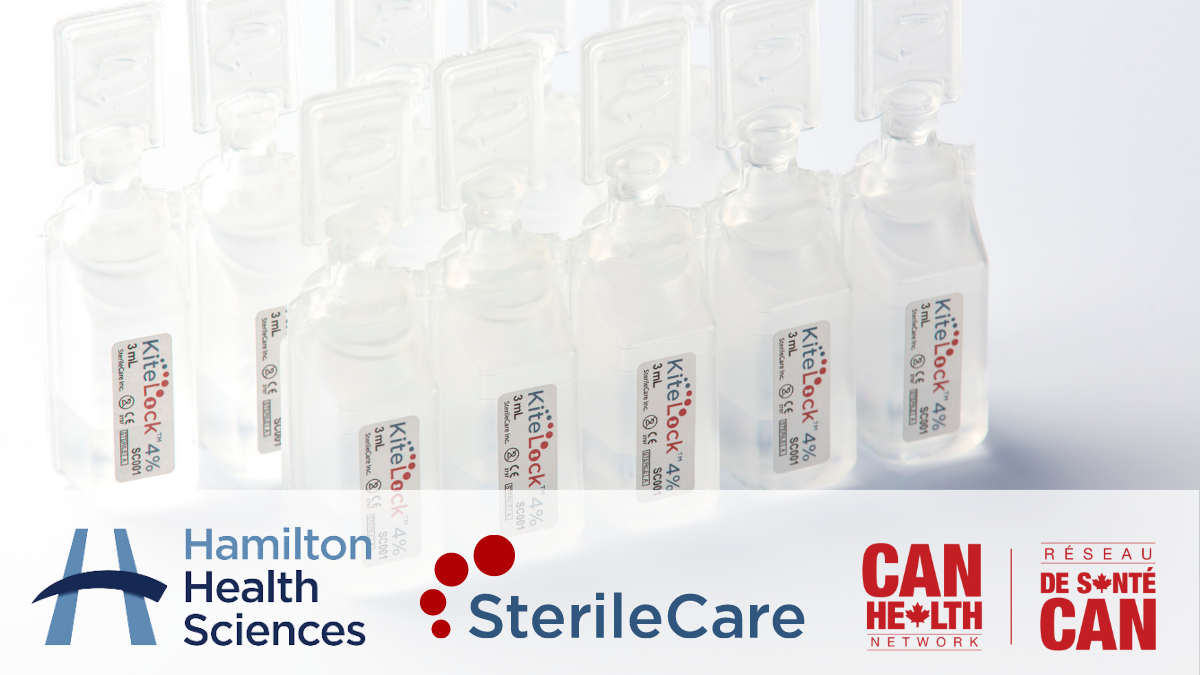 Hamilton leading the way in adoption of new product developed by SterileCare that can potentially help other health operators improve quality of care for patients across Canada
March 22, 2023 (Markham, ON) – The Coordinated Accessible National (CAN) Health Network is pleased to announce that following a commercialization project, Hamilton Health Sciences (HHS) has procured KiteLock 4%™, an advanced solution developed by Canadian company, SterileCare, to reduce vascular catheter infections in patients.
SterileCare's KiteLock 4%™ Catheter Lock Solution is the newest and most advanced product to help keep catheters clear from complications. The solution eliminates biofilm in catheters and is the only clinically proven non-antibiotic locking solution that can prevent infections and is approved safe use in children.
During the 6-month commercialization project funded by the CAN Health Network, HHS achieved a 60% reduction in vascular catheter infections in select units at the Juravinski Hospital and Cancer Centre.
"In our current health care landscape, it's more important than ever to find new and innovative ways to benefit our patients," says Dr. Ted Scott, Chief Innovation Officer, Hamilton Health Sciences. "This is why collaborating with organizations like the CAN Health Network is vital in developing partnerships with companies like SterileCare to make impactful change."
Catheters are regularly used in hospitals to administer lifesaving treatments such as chemotherapy. Patients that use catheters, however, are at a high risk of developing infections. Severe cases can result in adverse outcomes, increased resistance to antibiotics, increased length of hospital stay, emergency room visits, and even death.
"SterileCare provides a solution for common infection risks in our health care system, and bridges a significant gap in the market for patients that require vascular catheters to receive lifesaving care," says Karen Mueller, CEO, SterileCare. "With the prevention of vascular catheter infections and blockages as our top priority, our catheter lock solution is the only product proven to eradicate all problematic bacteria. By working with the CAN Health Network, Hamilton Health Sciences and Fraser Health, we are improving care in new patient populations with each partnership we form, while continuing to scale our business."
Through the CAN Health Network, SterileCare has also been working closely with Fraser Health in British Columbia to help reduce vascular catheter complications in the ICU.
"It's incredible to see when forward-thinking organizations come together to improve outcomes for patients. Hamilton Health Sciences is a leader in the CAN Health Network, and we are proud to see they have purchased an advanced health care solution from SterileCare, a great Canadian company. SterileCare continues to partner across the Network, and we are excited about the continued work with Fraser Health," says Dr. Dante Morra, Chair, CAN Health Network.
To celebrate this success, an event was hosted at SE Health, one of the original CAN Health partners, where the Honourable Mary Ng, Minister of International Trade, Export Promotion, Small Business and Economic Development reiterated the Federal Budget commitment of $30 million in funding to CAN Health and highlighted recent Network projects including that of HHS and SterileCare.
"CAN Health helps link our innovative businesses with institutions that benefit from their technology to keep Canadians healthy and safe," said The Honourable Mary Ng, Minister of International Trade, Export Promotion, Small Business and Economic Development. "This $30 million investment enables the CAN Health Network to become a truly national initiative. It also paves the way for Canadian businesses to scale and expand across the country and around the world, keeping Canadian health care at the forefront."
The CAN Health Network is a federally-funded organization that works with Canadian health-care providers (called Edges), to identify challenges that can be solved by technology and match them with a Canadian company with a ready-made solution. By working together with providers such as hospitals, health authorities and long term care homes, the Network creates an Integrated Marketplace that enables Canadian companies and their solutions to be rapidly validated, procured, and scaled across the country and abroad.
-30-
ABOUT THE CAN HEALTH NETWORK
The CAN Health Network is a Canada-first approach to technology adoption. It helps break down barriers to scaling in the health-care system and provides an environment for companies to scale to their full potential. Currently operating in Ontario, Western and Atlantic Canada, the CAN Health Network was recently awarded $30 million by the Government of Canada as part of Budget 2022 to expand into Quebec, the Territories and with Indigenous Communities. Learn more about the CAN Health Network at www.canhealthnetwork.ca
ABOUT STERILECARE
SterileCare is an infection prevention company that provides safe and effective solutions that significantly impact preventable complications and the associated financial burden of health care acquired infections, thereby supporting global action plans on antimicrobial resistance, so patients can focus on improving their health rather than complications related to their treatment.
ABOUT HAMILTON HEALTH SCIENCES
Hamilton Health Sciences is a community of 15,000 staff, physicians, researchers and volunteers that proudly serves southwestern Ontario residents. It also provides specialized, advanced care to people from across the province. Hamilton Health Sciences is the only hospital in Ontario that cares for all ages, from pre-birth to end-of-life. It offers world-leading expertise in many areas, including cardiac and stroke care, cancer care, palliative care and pediatrics.
Sign up for email
Error: Contact form not found.