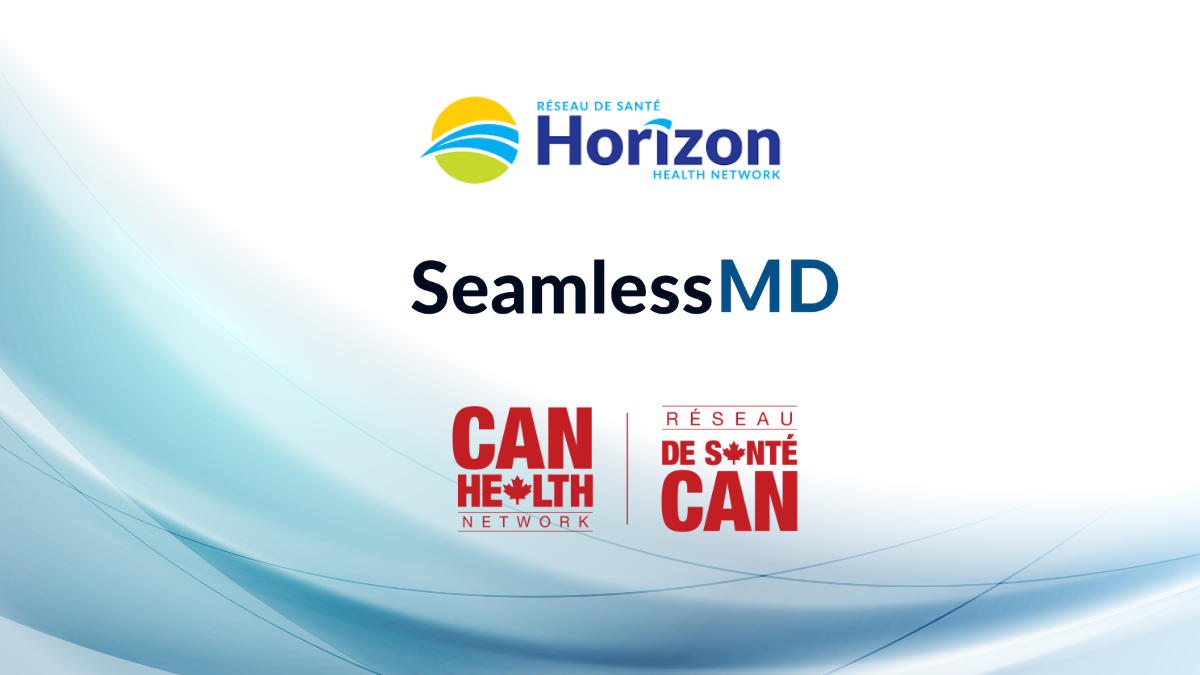 All New Brunswickers deserve accessible and quality health care and a positive patient experience, and this initiative is one example of how Horizon is committed to providing that every day

February 27, 2023 (Saint John, NB) – Horizon Health Network (Horizon), through its membership in the Coordinated Accessible National (CAN) Health Network, is launching an exciting project that will allow patients and clinicians to use a leading Canadian-made digital patient journey application.
The deployment of the SeamlessMD digital care journey platform will provide vital digital health care support to patients preparing for or recovering from cardiac surgery at the New Brunswick Heart Centre – the province's only tertiary cardiac care centre — at Horizon's Saint John Regional Hospital.
Cardiac surgery patients at the New Brunswick Heart Centre can access the SeamlessMD app from their smartphones, tablets, or computers, and are guided before and after surgery with reminders, evidence-based education, symptom-tracking surveys and videos to help them follow the care plan prescribed by their care team.
"SeamlessMD, which acts as a virtual patient companion, will annually provide approximately 800 cardiac surgery patients with a single point of access to care information that will help them, and their care teams prepare for surgery, support their recovery, and reduce hospital readmissions," said Jennifer Sheils, Horizon Vice President Strategy, Transformation and Chief Innovation Officer. "Care teams at the New Brunswick Heart Centre will also benefit from this technology, as they will be able to receive alerts, remotely monitor patients and access analytics to deliver better care. The platform is fully compatible with Horizon's patient information systems."
This initiative is in alignment with Horizon's key priority of improving patient experiences, as this digital tool has proven successful in generating overwhelmingly positive feedback from patient users in other health care organizations across North America by allowing patients to better track, take charge and remain informed of their own health care journeys.
"We're excited to partner with Horizon to create better health care outcomes for more Canadians by providing patients with real-time access to digital care plans that keep patients on track with their instructions, empower providers to remotely monitor patients, and provide a safer recovery." said Dr. Joshua Liu, CEO and co-founder, SeamlessMD. "Our collaboration demonstrates the CAN Health Network's dedication and support to driving health care innovation across Canada. We look forward to teaming up with Horizon to support their digital health goals by optimizing the patient experience and improving outcomes."
"SeamlessMD is a leading Canadian company that has greatly impacted and improved the patient experience," added Dr. Dante Morra, Chair, CAN Health Network. "They joined the Network as an early company in 2021 in Ontario, and continue to be an incredible partner for health care organizations across Canada."
Background
ABOUT SEAMLESSMD
SeamlessMD provides the leading Digital Care Journey platform for hospitals and health systems to engage, monitor and stay connected with patients across healthcare journeys. 35+ clinical studies & evaluations have shown SeamlessMD to improve the patient experience while reducing hospital length of stay, readmissions, and ED visits. Health systems such as Trillium Health Partners, SE Health, William Osler Health System, Sunnybrook, Grand River Hospital, St. Joseph's Healthcare Hamilton, Nova Scotia Health Authority, and others use SeamlessMD to elevate the patient experience, improve outcomes and lower costs. Patients access digital care plans on their smartphones, tablets or computers and are guided via reminders, education, and progress tracking. Providers receive alerts, monitor patients and access analytics to deliver better care. SeamlessMD is directly integrated with EHRs such as Epic, Oracle Cerner, MEDITECH and others. In 2022, SeamlessMD was named by the CAN Health Network as its Company of the Year. To learn more visit https://seamless.md/.
ABOUT CAN HEALTH NETWORK
The CAN Health Network is a national partnership comprised of leading Canadian health organizations, referred to as Edges, and companies across Canada. Made possible with funding from the Federal Government, the Network works to introduce new solutions into the health care system and pave the way for Canadian businesses to scale not only across Canada, but globally. By working with Edges such as Horizon, CAN Health provides Canadian companies with access to real health care environments where they can implement their market-ready solutions, gain valuable feedback from end-users, and scale across the Network and beyond. As a company in the Network, SeamlessMD was able to build on the success of its initial launch with Toronto's Trillium Health Partners during the COVID-19 pandemic and has since been successfully implemented in other organizations. To learn more about the CAN Health Network, visit canhealthnetwork.ca.
ABOUT HORIZON HEALTH NETWORK AND THE NEW BRUNSWICK HEART CENTRE
Horizon is the largest regional health authority – and one of the largest employers – in New Brunswick, and the second-largest health authority in Atlantic Canada. Our leadership and health care providers are experts in diverse areas of health and community services and provide services to a half a million people. Horizon has an annual budget of approximately $1.2 billion and has more than 13,000 employees, 1,100 physicians and 1,300 volunteers, as well as 17 foundations, 12 auxiliaries and 8 alumnae organizations.
Serving over a million residents of the provinces of New Brunswick and Prince Edward Island, the New Brunswick Heart Centre (NBHC) has established itself as a leading provider of innovative treatments to Atlantic Canadians and a major contributor to national and international diagnostic and interventional research. The Heart Centre also continues to grow, as it established, the Electrophysiology Laboratory, in April 2006 based on recommendations from the External Review of Cardiac Services in New Brunswick. Recent partnerships with Dalhousie Medicine New Brunswick and the IMPART research team ensure that the NBHC will continue to flourish in the years to come. To learn more about the New Brunswick Heart Centre, visit nbheartcentre.ca.
-30-
For more information contact:
Kris McDavid
Media Relations
1-877-499-1899
horizonnb.ca/news
Sign up for email
Error: Contact form not found.