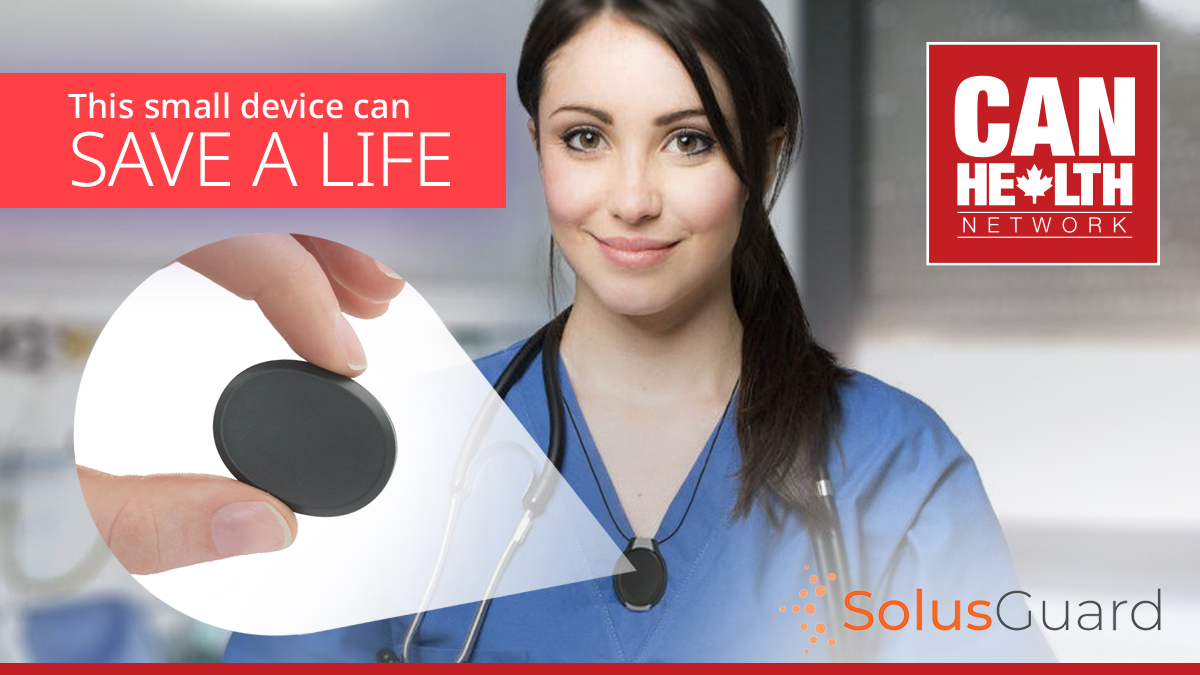 September 21, 2020 – Saskatoon, SK – SolusGuard, a Saskatchewan based company and Saskatchewan Health Authority (SHA) have collaborated to trial an employee alert system for remote health workers. Safety for staff and patients and creating an environment where staff feel safe is a top priority in the delivery of health care services. The project aims to improve staff safety via a suite of safety services.
The need for a safety device for lone workers was identified through the new health care innovation partnership between the SHA and the Coordinated Accessible National (CAN) Health Network. Health care workers working remotely in different areas of the province, both rural and urban will pilot a check-in app and a wearable safety alert device which calls 911 directly if the user is in need of emergency services.
The project is funded in part by the CAN Health Network, a platform that provides Canadian companies with access to health systems across Canada to support refine their product and scale their business. The CAN Health Network was created in July 2019 as a result of a $7-million investment by the Government of Canada, including $3.5 million from Western Economic Diversification Canada.
"Our government will always support our innovative and creative small businesses – many of whom are working hard to develop Canadian health technologies which help keep Canadians safe," said the Honourable Mary Ng, Minister of Small Business, Export Promotion and International Trade. "As we address challenges created by the COVID-19 pandemic, it is crucial that we continue to help our businesses grow and export their Canadian health tech solutions through the CAN Health integrated market."
"The SHA is honoured to be leading the Western Network and to have the opportunity to work with Saskatchewan based companies to provide home-grown solutions to identified opportunities in our health system," said Scott Livingstone, CEO of the SHA. "By partnering with businesses through this process we can assist with developing their products to work in our complex environments."
"Working together with the SHA to help refine our product to work successfully with the nuances in health care is an invaluable opportunity for our business," said Serese Selanders, owner and CEO of SolusGuard. "Thanks to the support of the CAN Health Network, we have the ability to showcase what our safety solutions can do on such a large scale."
"The partnership created with the CAN Health Network, SolusGuard and Lead Edge in the West, Saskatchewan Health Authority, is a great showcase of the talent we have here in Canada," said Dr. Dante Morra, Chair of the CAN Health Network. "This initiative helps address challenges that health care organizations face to ensure the remote safety of staff and patients. Our goal is to grow Canadian solutions, and support companies like SolusGuard scale across the Canadian marketplace and into new industries while strengthening our health care system and the safety of our loved ones."
For more information:
Media Relations
Saskatchewan Health Authority
1-833-766-4392
[email protected]
Jacqueline Ornelas
Communications & Partnerships Advisor
CAN Health Network
[email protected]  and 416-456-8032
Rhonda Laing
Director, Policy, Planning and External Relations
Western Economic Diversification Canada
[email protected]
Sign up for email
Error: Contact form not found.