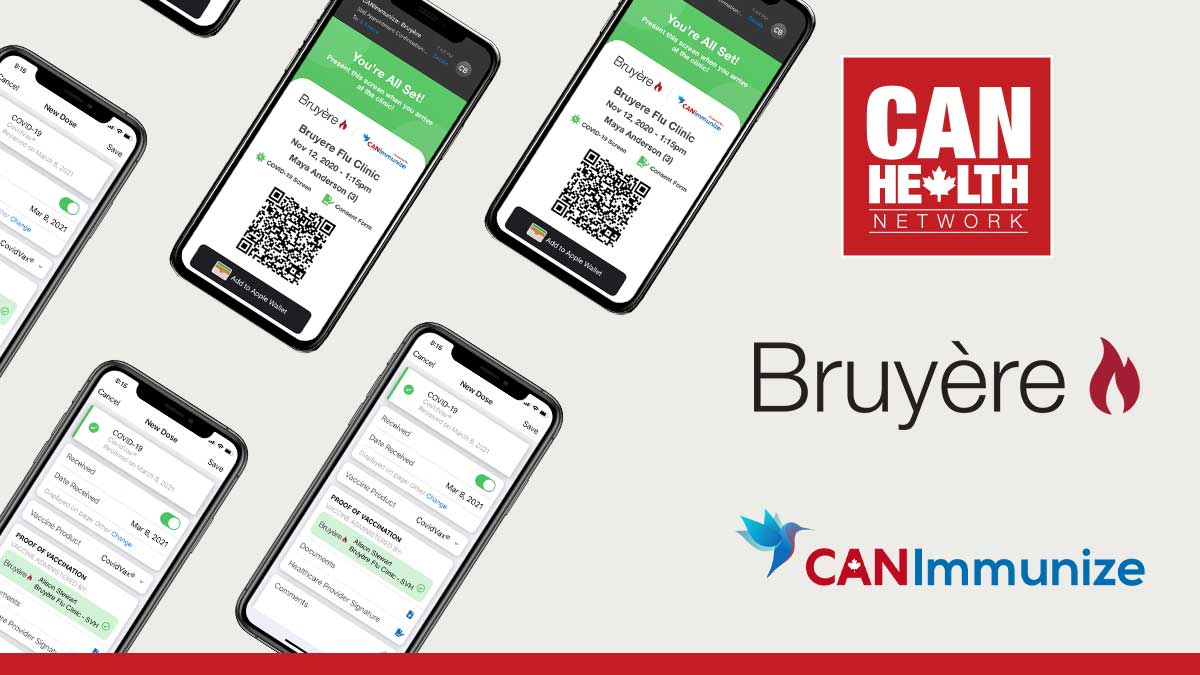 November 23, 2020 (Ottawa, ON) – New technology that simplifies the complexity of running flu clinics may soon help Canada with its complicated COVID-19 vaccine rollout.
In Ottawa, Bruyère is piloting a new technology, developed by CANImmunize, to revolutionize its annual influenza vaccination clinics for staff and their family members. CANImmunize Inc. is a software start-up company that developed a pan-Canadian digital immunization tracking system for Canadians to keep track of their vaccinations through a mobile app and web-based portal.
Immunization clinics are still traditionally paper-based with multiple touchpoints for potential infection, but CANImmunize's Clinic Flow solution allows employees to digitally book flu shot appointments, complete consent forms and keep records of immunizations. In parallel, administrators document vaccination and dose details digitally, and send the information directly to Bruyère's occupational health and safety team, saving time and labour costs.
"Our partnership with CANImmunize is helping us modernize our operations while making it simpler for staff and their families to get their flu shots at a crucial time in our COVID-19 response," said Guy Chartrand, President and CEO of Bruyère. This offers us the opportunity to test our capacity in preparation for larger, more complex vaccination clinics, all the while helping health care workers protect themselves, their colleagues, and those we serve in our hospitals and long-term care homes."
Clinic Flow offers:
Virtual booking, consent and COVID-19 screening
An easy-to-use tool for staff and patients
Ability to schedule multiple vaccination clinics at same time
Digital proof of vaccination
Tools to monitor trends and employee vaccination rates
Ability for staff to report digital vaccination records to occupational health and safety using the CANImmunize mobile app
With the COVID-19 pandemic, CANImmunize saw a need to help organizations run immunization clinics, help prevent outbreaks and manage the spread of COVID-19 and other vaccine-preventable diseases. By simplifying the complexity of running immunization clinics, reducing the risk of infection from COVID-19 and helping employers offer vaccinations, whether in a hospital, manufacturing plant or office building, Clinic Flow helps organizations continue to operate.
"Flu clinics are logistically complicated and a COVID-19 vaccine rollout will pose even more challenges," said Katherine Atkinson, Chief Operating Officer, CANImmunize. "This is a test run for how to rollout the COVID-19 vaccine, or multiple vaccines, on a mass scale. Clinic Flow will allow hospitals, family practices, governments and employers to run large vaccination clinics efficiently, moving multiple touchpoints of paper-based vaccination clinics seamlessly online."
This made-in-Canada commercialization project is funded by the CAN Health Network, a federally funded program focused on growing Canadian solutions, and supporting companies to scale across the Canadian marketplace, while strengthening the health care system. The project runs until the end of 2020. CANImmunize and the Bruyère Research Institute will evaluate and refine Clinic Flow to scale up across Canada to other hospitals and healthcare institutions in the CAN Health Network, government and companies in time for the COVID-19 vaccine rollout.
"The CAN Health Network is supporting made-in-Canada health solutions, which is critical to solving the challenges we are facing today, while helping our economy recover. This new partnership between Bruyère and CANImmunize is an excellent example of homegrown innovation that benefits Canadians now. Together, we are helping businesses advance their innovative technologies to keep Canada at the forefront of health care innovation as we work to rebuild a stronger economy," says the Honourable Mélanie Joly, Minister of Economic Development and Official Languages and Minister responsible for the Federal Economic Development Agency for Southern Ontario (FedDev Ontario).
"Timing couldn't be better for this partnership," said Dr. Dante Morra, Chair of the CAN Health Network. "As we prepare for a possible COVID-19 vaccine and the immense work it will take to roll it out across the country, CAN Health is enabling a Canadian company to test their technology in a real-world scenario to ensure it meets the needs of healthcare organizations across Canada and beyond."
ABOUT CANImmunize
CANImmunize is a technology company specializing in immunization software. It developed the CANImmunize platform, a pan-Canadian digital immunization tracking system that helps Canadians keep track of their vaccinations with a mobile app and web portal. The team offers digital solutions to businesses, health care organizations and governments for vaccinations and tracking, and is preparing for the COVID-19 vaccine rollout.
ABOUT BRUYÈRE
Bruyère provides a wide range of health services to the aging population within its hospitals and long-term care homes in Ottawa. As an academic health care organization, Bruyère specializes in care of the elderly through rehabilitation, palliative care, brain health, and complex continuing care. To learn more, visit www.bruyere.org.
ABOUT CAN HEALTH
The CAN Health Network is a Canada-first approach to technology adoption. It helps break down barriers to scaling in the healthcare system and provides an environment for companies to scale to their full potential. It was created in July 2019 with a $7-million investment from the Government of Canada to start the network in Ontario, through the Federal Economic Development Agency for Southern Ontario (FedDev Ontario), and in the West, through Western Economic Diversification Canada (WD) with planned expansion to the East, Quebec and the North to come. To learn more about the CAN Health Network, visit www.canhealthnetwork.ca
For more information contact:
Alexis Fung Fook
Senior Communications Advisor
416-360-2674
[email protected]
Sign up for email
Error: Contact form not found.