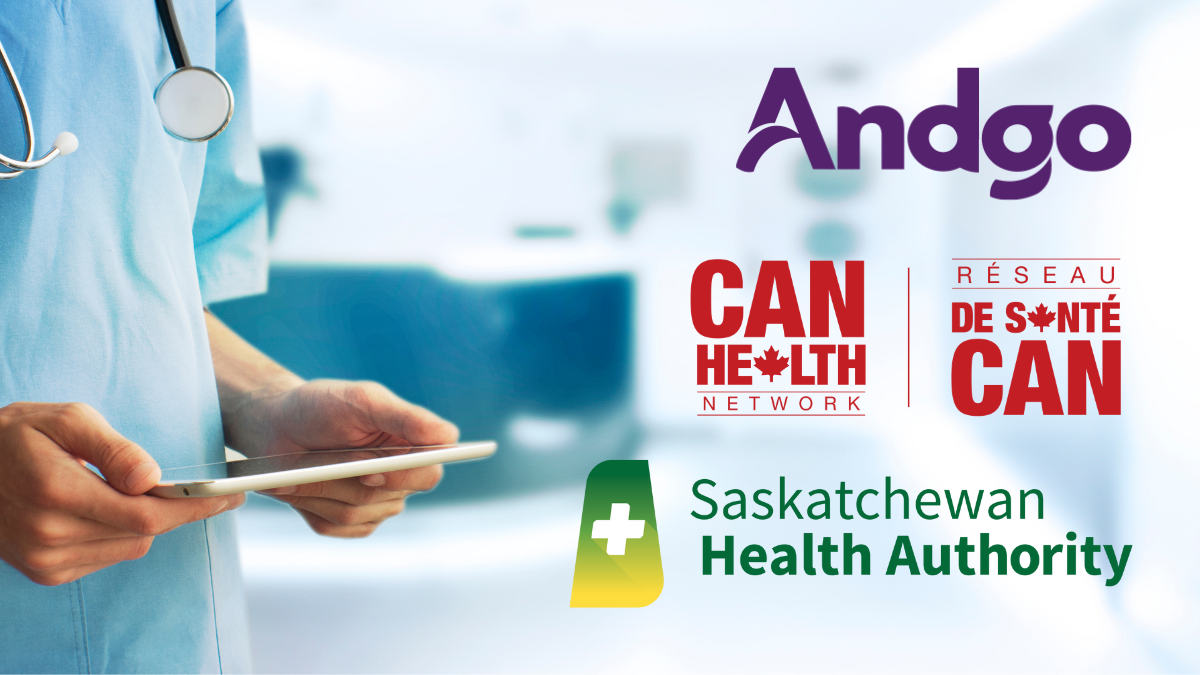 December 6, 2021 (Saskatoon, Saskatchewan) – Saskatchewan Health Authority (SHA) has partnered with Andgo Systems in a commercialization project driven by the Coordinated Accessible National (CAN) Health Network to quickly and efficiently deploy staff to help in the fight against COVID-19 in Saskatchewan. Early in the pandemic, SHA identified that setting up mass COVID-19 immunization clinics was a gigantic logistical undertaking, requiring a large number of staff.
"Sometimes, we'd get shipments of the vaccine with very little notice. Saskatchewan residents needed health-care employees to be there to administer those vaccines right away," explains Kweku Johnson, Director of HR Systems and Analytics at SHA. "We worked with Andgo Systems to build upon our current scheduling technology, to staff the clinics as soon as possible in a way that was user-friendly for health care employees."
Since implementing this solution, Andgo has enabled the rapid mobilization of staffing resources required to meet the urgent demands of COVID-19 vaccination clinics.
The CAN Health Network works directly with health care operators, or Edges, to identify their biggest challenges and partner them with Canadian-made, innovative solutions, like Andgo. Its goal is to give companies access to a rapid validation process and advance procurement opportunities to scale across the country and abroad.
Andgo is an intelligent workflow automation suite used by the Saskatchewan Health Authority to identify, communicate, and fill vacant shifts. It drives increased efficiency by removing the need for manual intervention – connecting directly with eligible employees to significantly streamline shift filling. Andgo automatically accounts for time rules, call lists, procedure sets and shift granting rules, making it the ideal solution for complex, high volume scheduling environments.
"Before Andgo was available across the province, many immunization clinics would be calling people manually to fill those shifts. It may take up to an hour to just phone everyone on the list," explains Johnson. "Then there was the scheduling part, taking return calls, and manually organizing the information. It would take many people many days to ensure the clinics were adequately staffed."
"Andgo can contact all 4,000 available employees in one minute. It's also working in the back end, recording preferred shifts and, if necessary, routing employees' calls to specific schedulers if employees have questions or need help. Within minutes, thousands of employees know about the shifts. A few hours later, employees have their shifts, and some are already working them."
More than 58,000 shifts were filled by more than 4,000 employees using Andgo during the vaccine effort.
"It means a lot for us at Andgo to help contribute to this massive effort," says Andgo CEO Tom Ross. "For us, it's ultimately about delivering the desired outcome: front-line health-care employees spending their time focused on delivering patient care – such as administering vaccines – instead of dialing phone numbers and listening to ring tones."
"That's something that Andgo and its employees are very proud of."
Normally, SHA sends around 400,000 notifications per month through Andgo. At the height of the immunization campaign, their volume jumped to over 1.6 million notifications per month.
"The work between SHA and Andgo demonstrates how critical it is for Canadian health operators and companies to unite. Together, we can evolve the quality of care accessible to patients, while creating an environment for Canadian innovators to scale." – Dr. Dante Morra, Chair, CAN Health Network
-30-
ABOUT ANDGO SYSTEMS
Our mission at Andgo Systems ("Andgo") is to improve the lives of both our customers and employees. We do this by enabling meaningful and thoughtful work that simplifies complex interactions related to dynamic shift filling and vacation mapping.
Andgo's intelligent workflow automation suite fills more shifts faster, with the right people. Our holistic, end-to-end approach drives significant ROI to our customers, particularly in high volume scheduling environments. Learn more about Andgo by visiting our website: www.andgosystems.com
ABOUT SASKATCHEWAN HEALTH AUTHORITY
The Saskatchewan Health Authority is the largest organization in Saskatchewan, employing more than 40,000 employees and physicians. Together, we are responsible for the delivery of safe, high quality health care for the entire province.
ABOUT CAN HEALTH NETWORK
The CAN Health Network is a Canada-first approach to technology adoption. It helps break down barriers to scaling in the health care system and provides an environment for companies to scale to their full potential. Currently operating in Ontario, Western and Atlantic Canada, the CAN Health Network plans to expand into Quebec and the North. The Network has received $3.5 million in 2019 and $3.25 million in 2021 from the Federal Economic Development Agency for Southern Ontario (FedDev Ontario), $3.5 million from PrairiesCan and PacifiCan, and most recently, $2.2 million from the Atlantic Canada Opportunities Agency to build a national platform that harnesses the purchasing power of health care organizations. To learn more about the CAN Health Network, visit canhealthnetwork.ca.
Sign up for email
Error: Contact form not found.