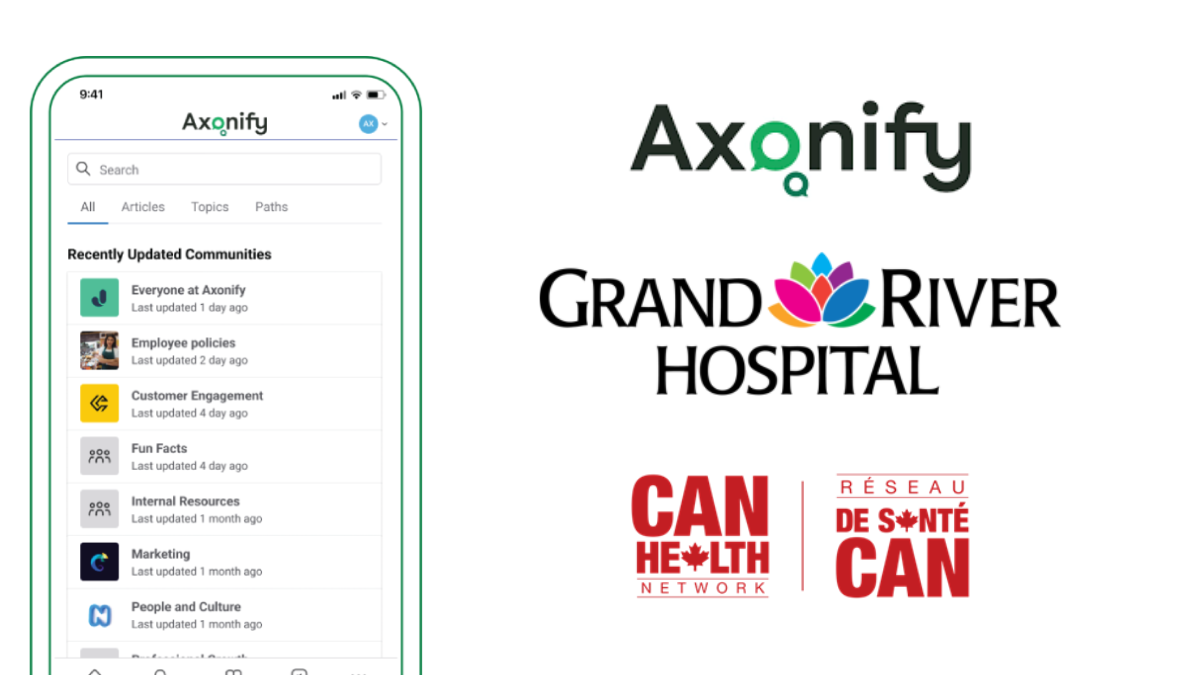 One of Ontario's largest community hospitals taps training leader to bring frontline workforce enablement solution to health care professionals
July 26, 2023 (Waterloo, ON) – Axonify, a leader in frontline employee enablement, has expanded its work with one of Ontario's largest community hospitals, embarking on a first-of-its-kind partnership for the company and health care organization. Together, Axonify and Grand River Hospital (GRH) will continue to provide health care workers with innovative training, tools, and support to do their best work every day.
The partnership between GRH and Axonify began in 2021 through a commercialization project launched by the Coordinated Accessible National (CAN) Health Network – a federally funded organization providing Canadian companies with access to real health care environments to implement their market-ready solutions, gain valuable feedback from end-users, and scale across the network and beyond.
Through this project, GRH implemented Axonify's modern learning platform for accreditation preparation, while ensuring ongoing training reinforcement for frontline staff. The platform provides quick bursts of training that are wrapped in gamification, take only 3-5 minutes a day, and are uniquely tailored to each team member based on their position and existing knowledge.
From this collaboration, GRH saw success in the Accreditation Canada survey and the hospital was awarded Accreditation with Exemplary Standing. The response from frontline staff was overwhelmingly positive, with 92% of survey responders finding this to be a useful tool for accreditation, and 91% of responders attributing some of the confidence they felt going into the survey to the use of the Axonify tool. GRH is now exploring how to best scale Axonify's training and communications platform in an effort to provide employees with the support and tools needed to foster a positive at-work learning environment.
"As we evaluate which technology and training supports to implement within our hospital, we search for tools that help support our staff and physicians while making the workplace more engaging and the learning process more enjoyable," said Carla Girolametto, Director of Innovation and Research, Grand River Hospital. "After the great work we accomplished in 2021 with the CAN Health project, expanding our partnership with Axonify was an easy decision as it sets our workforce up for continued success."
As a result of the successful adoption at GRH, Axonify's platform will now be more accessible to members within CAN Health, including provincial health authorities, public and private hospitals, and long-term care homes.
"As we continue expanding into the health care industry, we are thrilled to continue our work with Grand River Hospital to ensure its health care workers are engaged, informed, and most of all, supported with the right training," said Carol Leaman, CEO and Co-Founder of Axonify. "Axonify's training technology will allow the GRH team to utilize a continual learning ecosystem. The extension of this partnership proves the importance of expanding our work within the health care community and we are focused on continuing to innovate training for the entire health care ecosystem."
"The CAN Health Network is excited to see Axonify scale into Grand River Hospital, and Canada's health care space," said Dr. Dante Morra, Chair, CAN Health Network. "This collaboration demonstrates the importance of innovation in health care, and we are hopeful that other CAN Health Network members will adopt this solution."
For more information on Axonify's proven frontline enablement solution visit, axonify.com
-30-
ABOUT AXONIFY
Axonify is the proven frontline enablement solution that gives employees everything they need to learn, connect and get things done. It starts with brain science and AI to drive knowledge retention through bite-sized microlearning and daily intelligent reinforcement. Embedded two-way communication and feedback ensure your staff is engaged and informed, no matter the scale of your organization, and guided task management shows employees exactly how to put their training to use, every single day. With an industry-leading 83% engagement rate, companies use Axonify to deliver next-level CX, higher sales, improved workplace safety and lower turnover. Axonify enables over 3.5 million frontline workers in 160+ countries, with over 250 customers including Lowe's, Kroger, Walmart and Citizens Bank. Founded in 2011, Axonify is headquartered in Waterloo, ON Canada. For more information, visit axonify.com.
ABOUT GRAND RIVER HOSPITAL
Grand River Hospital is one of Ontario's largest community hospitals with an outstanding team of more than 5,000 dedicated health care workers and volunteers. We provide services and support to more than 840,000 residents at our two campuses and satellite locations in Waterloo Region and Guelph-Wellington. We take pride in the ways we collaborate with our health system partners, our region's academic and innovation communities, and diverse community stakeholders as we work toward providing a world class experience for patients, families and team members. At Grand River Hospital, we are committed to transforming health care delivery, providing an exceptional experience for all, and working collaboratively to improve the health of our community. Our vision is a world class hospital system supporting healthier lives. Learn more at grhosp.on.ca.
ABOUT THE CAN HEALTH NETWORK
The CAN Health Network is a Canada-first approach to technology adoption. It helps break down barriers to scaling in the health care system and provides an environment for companies to scale to their full potential. Currently operating in Ontario, Western and Atlantic Canada, the CAN Health Network was recently awarded $30 million by the Government of Canada as part of Budget 2022 to expand into Quebec, the Territories and with Indigenous Communities. Learn more about the CAN Health Network at www.canhealthnetwork.ca.
Media Inquiries:
Richia McCutcheon
Sr. Brand Marketing Manager
Axonify
Sign up for email
Error: Contact form not found.