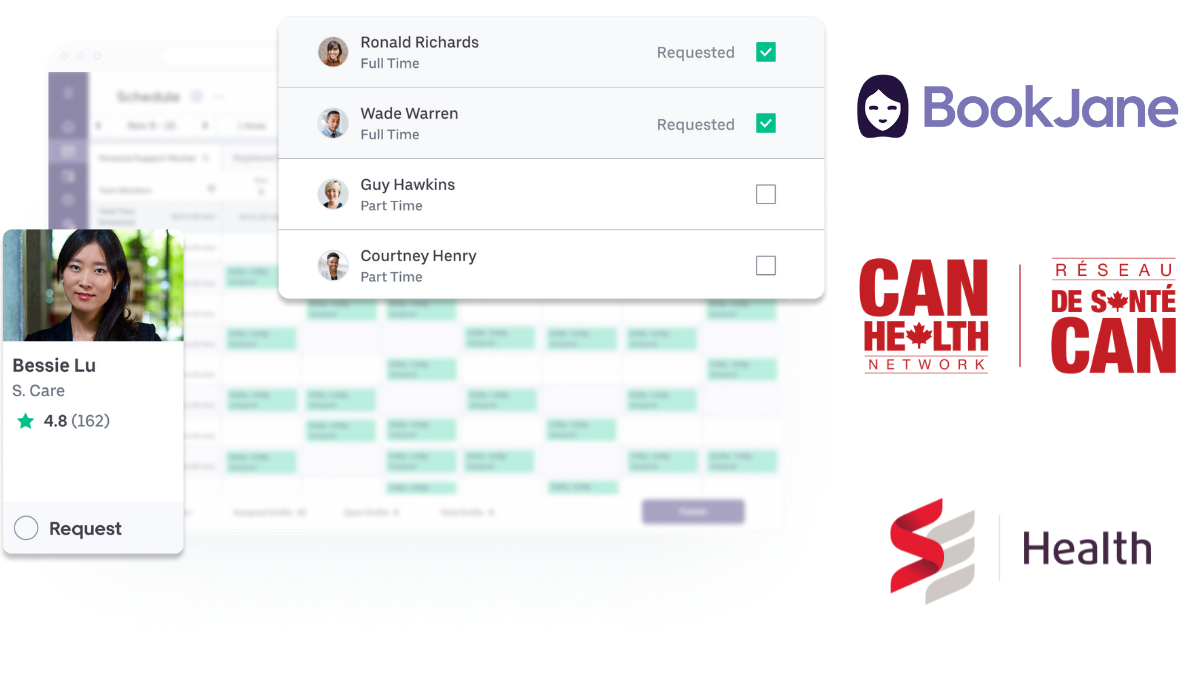 November 24, 2021 (Toronto, Ontario) – SE Health and BookJane are working together on a Coordinated Accessible National (CAN) Health Network commercialization project to implement Toronto-based BookJane's all-in-one staff management solution, J360, in select senior living operations in the Greater Toronto Area (GTA). The solution is improving front-line staff utilization in the face of a sector and country wide labour shortage, exasperated by the pandemic.
BookJane's made-in-Canada solution was introduced in multiple facilities beginning in September and has quickly helped to significantly automate and enhance scheduling processes for front-line health care professionals to fill shifts faster and ensure the highest level of resident and patient care.
By transitioning to BookJane from a manual system, SE Health has been able to significantly improve scheduling efficiency and optimize staff utilization. By leveraging BookJane's user-friendly platform, SE Health is also empowering staff with more control over their schedule, giving them the flexibility to take on additional shifts based on their personal preferences and availability.
"I love BookJane because I can focus on the shifts happening right now and still have the available shifts posted for later dates. It also holds the employee care partners accountable for their shift pickups; and I spend less time on the phone, texting and making calls, because the app will send out a mass message of our needs and we are able to make notes.
Staff love that they can see their schedule in advance; can plan their extra shift pickups and shifts that are coming available. They are also willing to help when they know where the shift is located (by making shift notes) and they convince other employee care partners to 'come work with me' – promoting greater connection between employees. BookJane is always willing to work with us and it continues to be an exceptional and valuable tool during the pandemic." – Melissa, Operations Coordinator, SE Health
The project, facilitated by the CAN Health Network, launched in select senior living facilities in Ontario this fall and is set to continue through early 2022. The CAN Health Network serves as a platform for Canadian companies like BookJane to provide solutions to meet the needs of Canadians and healthcare organizations, or Edges, like SE Health.
ABOUT SE HEALTH
SE Health is a not-for-profit social enterprise that shares its knowledge, provides the best care, and helps each client to realize their most meaningful goals for health and wellbeing. Established in 1908 by four pioneering nurses, we have worked with purpose for more than a century to bring hope and happiness and forever impact how people live and age at home. Today, our 8,000+ team members provide care in more places and ways than ever before, bringing health to life for over 20,000 Canadians daily. The SE family includes a dedicated research centre, health career college, futures lab and global enterprise. Together with the Saint Elizabeth Foundation and diverse partners, we have facilitated transformative solutions in the areas of aging, Indigenous health and end of life care. SE Health is honoured to be a three-time recipient of the Canada Order of Excellence and one of Forbes' Best Employers for 2020. www.sehc.com.
ABOUT BOOKJANE
BookJane is an award-winning staff management platform transforming the way 700+ healthcare facilities across North America schedule and fulfill shifts. Their all-in-one platform streamlines complex scheduling, connecting qualified internal and external workers to open shifts through their centralized Mobile App. With BookJane, facilities can easily engage staff, manage open shifts and fulfill vacancies with automated and rule-based shift callouts, eliminating the administrative burden of scheduling, so they can focus on what matters most: caring for residents.
Join BookJane's 2022 Product Review on December 1st to learn more about how they are helping to solve the staff shortage in healthcare. Register here.
ABOUT THE CAN HEALTH NETWORK
The CAN Health Network is a Canada-first approach to technology adoption. It helps break down barriers to scaling in the health care system and provides an environment for companies to scale to their full potential. Currently operating in Ontario, Western and Atlantic Canada, the CAN Health Network plans to expand into Quebec and the North. The Network has received $3.5 million in 2019 and $3.25 million in 2021 from the Federal Economic Development Agency for Southern Ontario (FedDev Ontario), $3.5 million from PrairiesCan and PacifiCan, and most recently, $2.2 million from the Atlantic Canada Opportunities Agency to build a national platform that harnesses the purchasing power of health care organizations. To learn more about the CAN Health Network, visit canhealthnetwork.ca.
For more information:
Sarah Quadri
SE Health
Mallory Tretter
Senior Marketing Manager, BookJane
416-859-2229
Cecely Roy
Senior Communications Advisor (Bilingual), CAN Health Network
437-881-8541
Sign up for email
Error: Contact form not found.