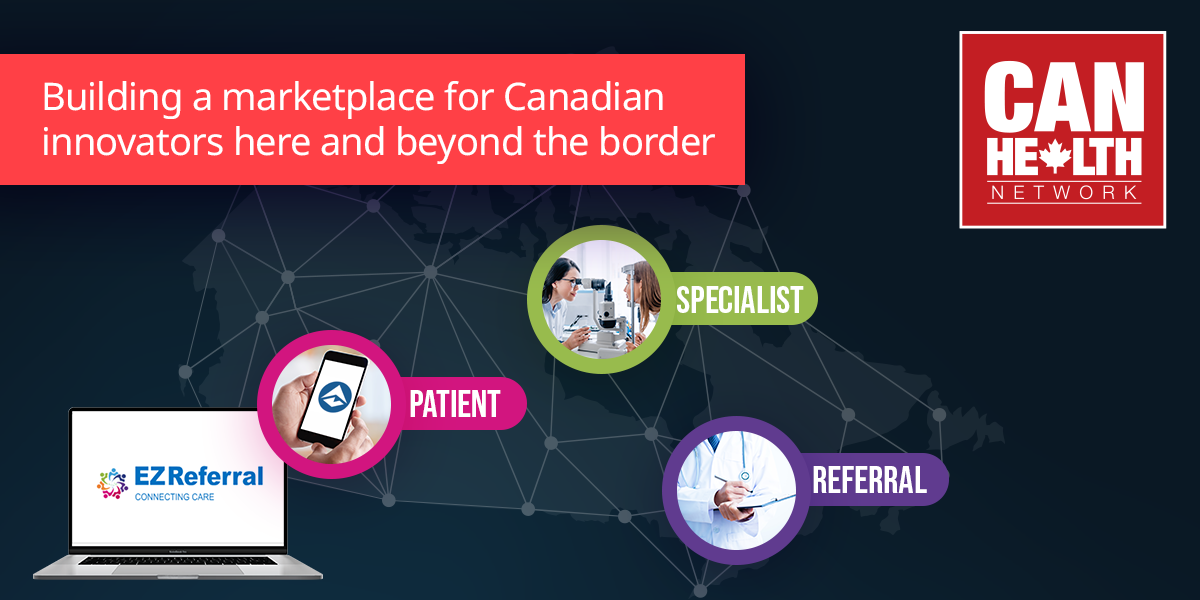 June 17th, 2020 (Mississauga, ON) – Leveraging their CAN Health Network project with the Prism Eye Institute (Prism), EZ Referral has rapidly scaled across four vision care clinics in Ontario and Newfoundland and Labrador and a large California based eye clinic with 12 locations throughout the state.  Prism, a member of the CAN Health Network and the largest vision care clinic in Canada, has partnered with EZ Referral to move from the traditional fax referral system to a digital one.
"It's partnerships like Prism and EZ Referral that we truly see how effective the CAN Health model is," said Dr. Dante Morra, Chair of the CAN Health Network. "Canada has an abundance of talent in the healthcare sector, and with the CAN Health Network, we are allowing innovators to grow and scale, which will create more jobs at home and strengthen our economy."
EZ Referral's web-based referral management platform which allows users to track referrals between offices in real-time while reducing errors and omissions, and integrating seamlessly with the electronic medical record system used in offices. Designed around patient's needs, it utilizes electronic messaging to communicate with patients, allowing them to confirm and keep track of their appointments on their computer or mobile device. As a result of the impact that COVID-19 has had on patient care, EZ Referral has created a unique solution allowing e-assessments and e-consults to be conducted while ensuring social distancing guidelines are met and enabling physicians to continue to safely care for their patients.
The collaboration with Prism through the CAN Health Network has been invaluable in our business development. The insights we gained from working with Prism in a real-time environment allowed us to make key modifications to our product to better meet the needs of the market

Peter Jurisic, President, EZ Referral
Through the alliance of this CAN Health project, Prism provided valuable customer feedback which enabled EZ Referral to further develop their platform and optimize their technology for ophthalmology clinics. Through the successful implementation of this customized solution geared towards eye care businesses, EZ Referral is now able to efficiently repeat this customization process for other medical specialties and scale-up through the country and across the border.
As a direct result of their success with Prism, and within only a couple of months into their partnership, EZ Referral was not only purchased by Prism, but also by another eye clinic in Ontario, as well as by two additional clinics in Newfoundland and Labrador. It has become the CAN Health Network's first multi-jurisdictional and international procurement.
"Technology is revolutionizing health care. The national network we are building with CAN Health will ensure Canadian talent is getting all the advantages they need to succeed and lead in this space," said Dr. Ike Ahmed, Medical Director, Prism Eye Institute
"The EZ Referral system makes a world of difference for both practitioners and patients," said the Honourable Mélanie Joly, Minister of Economic Development and Official Languages and Minister responsible for the Federal Economic Development Agency for Southern Ontario. "Not only is it easier and more efficient, in light of COVID-19 it enables e-assessments and e-consults so physicians can continue to care for their patients. Thanks to the support of the CAN Health Network, this great example of homegrown innovation be able to help even more Canadians."
Quick facts:
Health-tech represents a $250 billion global market
Health care spending in Canada is growing at a rate of over 1.5 times our GDP
EZR improves office efficiency
Prism Eye Institute are leader in the community, and have been recognized for 50 years of service
The CAN Health Network is a Canada-first approach to technology adoption. It helps break down barriers to scaling in the healthcare system and provides an environment for companies to scale to their full potential. It was created in July 2019, as a result of a Federal Government investment totaling $7 million, of which the Federal Economic Development Agency for Southern Ontario (FedDev Ontario) and Western Economic Diversification Canada (WD) each contributed $3.5 million. This investment established the Network in Ontario and the West, with expansion to the East, Quebec and the North to come. To learn more about the CAN Health Network, visit www.canhealth.ca
Media Contact:
For all media inquiries, please contact
Jacqueline Ornelas, Communications & Partnerships Advisor
[email protected]  and 416-456-8032
[TheChamp-FB-Comments width="800″]
Sign up for email
Error: Contact form not found.