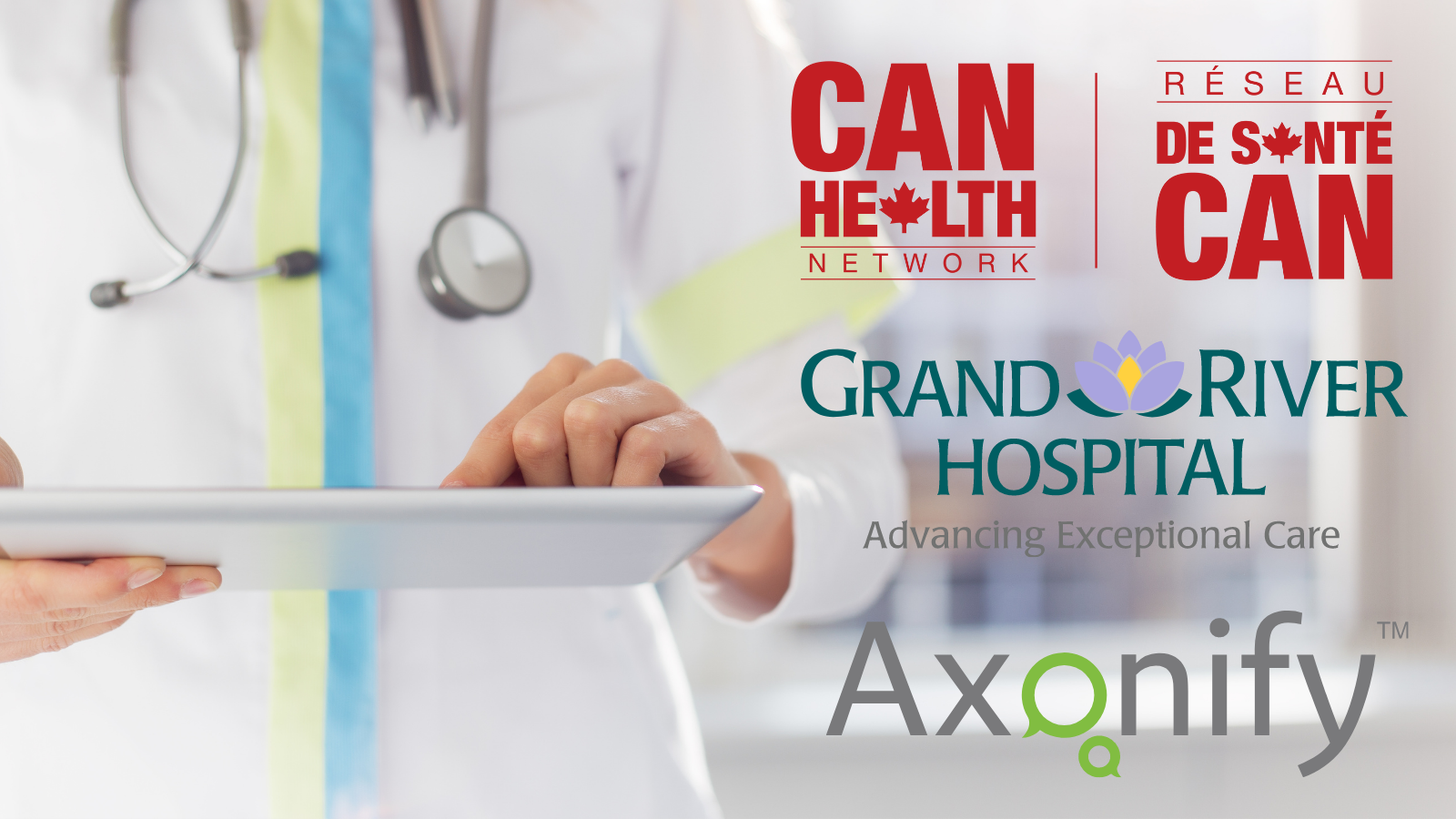 September 29, 2021 — Waterloo, Ontario — The Office of Innovation and Research (OIR) at Grand River Hospital (GRH) and Axonify are pleased to announce the launch of their Coordinated Accessible National (CAN) Health Network commercialization project. The project will implement a modern learning platform for accreditation preparation and ensure ongoing training reinforcement for frontline staff.
Waterloo-based Axonify's training and communications platform is designed to fit seamlessly into the workflow of busy frontline employees, including those that work in healthcare, retail, grocery, contact center, F&I and professional sales. The Axonify platform is branded HIPPO for use at GRH and will engage employees, physicians, and other health care providers in daily challenges that reinforce "learning large." The platform provides quick bursts of training that are wrapped in gamification, take only 3-5 minutes a day, and are uniquely tailored to each team member, based on their position and existing knowledge.
Preparing for accreditation is typically a time-consuming process that requires an abundance of resources, while long-term retention of the knowledge gained during accreditation preparation can also be a challenge. To address this as part of GRH's commitment to innovation and excellence, the adoption of accreditation preparation through the Axonify-powered HIPPO will support ongoing staff learning and knowledge retention. This solution will ensure everyday readiness for future accreditation requirements so that the hospital community can best serve patients and their families, while helping to reduce overall resource expenditure.
This made-in-Canada commercialization project between Grand River Hospital and Axonify is enabled by the CAN Health Network, a federally-funded program focused on growing Canadian solutions, and supporting companies to scale across an integrated Canadian marketplace, while strengthening the health care system.
The objective of the CAN Health Network project between GRH and Axonify is for HIPPO to be adopted widely throughout the institution as a supplementary learning tool that will help sustain staff knowledge, as well as to help position Axonify's technology as a leading training solution for health care staff, market ready as a proven technology for operators across Canada.
"We are honoured to be partnering with Grand River Hospital and the CAN Health Network to bring innovative training technology to the Canadian healthcare system," says Carol Leaman, CEO of Axonify. "As a proud Canadian-based company, we're thrilled for the opportunity to make a positive impact on the knowledge growth and accreditation readiness of GRH team members. We're very much looking forward to the opportunity to extend our impact to healthcare organizations across the country."
"Efficient and effective training and preparation for frontline staff across the health system is more critical than ever," says Dr. Dante Morra, Chair of the CAN Health Network. "Our goal is to provide health care organizations like Grand River Hospital with access to proven solutions that will ultimately improve patient care and enable Canadian tech companies like Axonify, to scale and succeed at home and abroad."
"We are incredibly excited to partner with Axonify as our very first CAN Health project," says Carla Girolametto, Director, Innovation and Research and Clinical Trials at GRH. "Axonify is an innovative learning solution that offers our team members an interactive format to refresh their knowledge in preparation for Accreditation Canada. Delivering key training content through game play helps reinforce the learning covered in a fun manner and, through HIPPO, the content is fully customizable for the needs of our organization as we test run this product within our hospital. We look forward to pursuing this and future CAN Health projects."
"Grand River Hospital and the CAN Health Network will immensely benefit from the implementation of efficient and effective training technology developed by the experts at Axonify," said Chris Albinson, CEO of Communitech. "This partnership is a perfect example of what we need more of in Canada to build our tech ecosystem and strengthen our supply chains: sourcing domestic solutions to domestic challenges and opportunities."
ABOUT AXONIFY
Axonify is the training and communications solution for frontline employees that actually works. Why does it work so well? Because the experience is fun, fast, personalized and designed to make critical information stick. And employees love it—83% of users log in 2-3 times a week, which translates into meaningful behaviour change that drives business results. More than 160 customers in 150+ countries around the world, including Walmart, Bloomingdale's, Levi's and Merck, trust Axonify to fuel their people's performance to keep pace with their business. Founded in 2011, Axonify is headquartered in Waterloo, ON Canada.
ABOUT CAN HEALTH NETWORK
The CAN Health Network is a Canada-first approach to technology adoption. It helps break down barriers to scaling in the health care system and provides an environment for companies to scale to their full potential. Currently operating in Ontario, Western and Atlantic Canada, the CAN Health Network plans to expand into Quebec and the North. The Network has received a total of $12.45 million in funding from the Government of Canada to build a national platform that harnesses the purchasing power of health care organizations. To learn more about the CAN Health Network, visit www.canhealthnetwork.ca.
ABOUT GRAND RIVER HOSPITAL
Grand River Hospital (GRH) is one of Ontario's largest community hospitals and provides innovative, quality care to more than 840,000 residents of Waterloo Region and Guelph Wellington. GRH is a leading healthcare organization, offering cancer and renal (kidney) services; care for the most seriously ill and injured adults; services for mothers, newborns and children; emergency care; mental health and addictions; and care for older adults including rehabilitation. The Hospital is privileged to be a key partner in health sciences learning and has a rapidly growing role in teaching, innovation and research through the Office of Innovation & Research which has partnered with over 50 organizations on more than 150 innovation and research activities since 2011.
For more information:
Cheryl Evans
Manager, Communications and Engagement, Grand River Hospital
M: 226-749-0689
Jennifer Qotb
Young & Associates for Axonify
D: 513-281-2772
M: 301-461-7062
Cecely Roy
Senior Communications Advisor (Bilingual), CAN Health Network
M: 437-881-8541
Sign up for email
Error: Contact form not found.