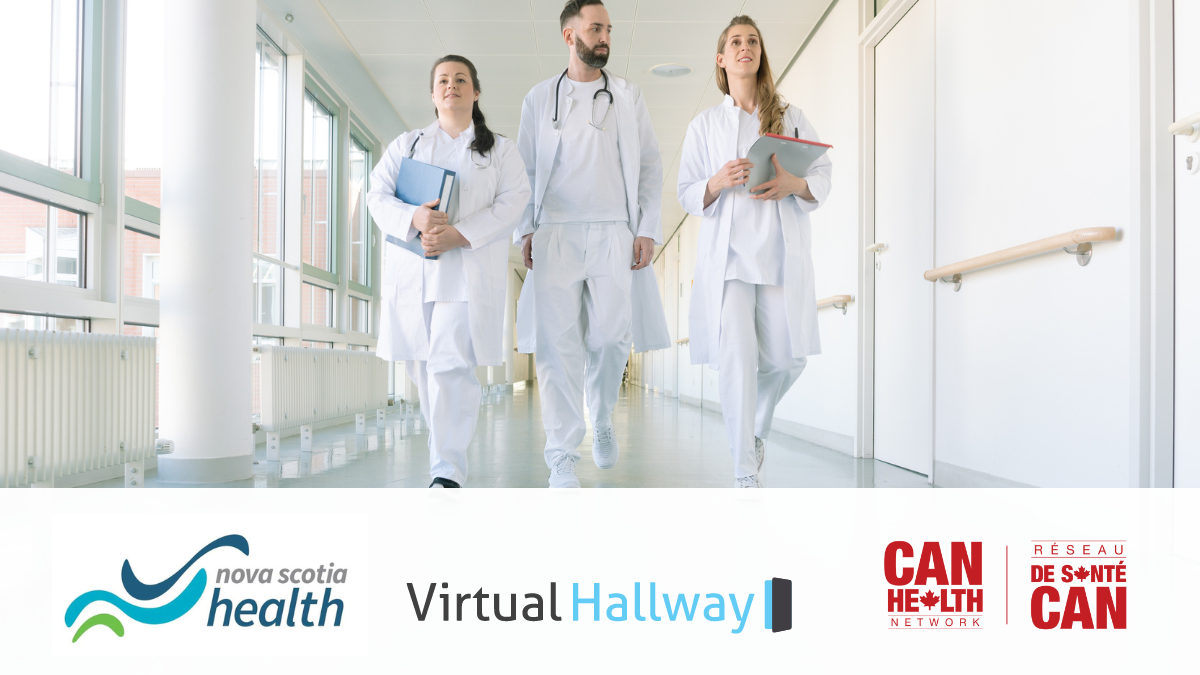 December 13, 2022 (Halifax, Nova Scotia) – In May 2022, Nova Scotia Health's Innovation Hub launched a six-month commercialization project, funded by the Coordinated Accessible National (CAN) Health Network, with Virtual Hallway, a Nova Scotian company that enables collaboration of primary care providers directly with specialists to seek advice on patient care.
Since the project launched, over 2,500 consultations have taken place, with primary care providers rating the service a 4.9 out of 5. Over 84 per cent of the referrals facilitated by the Virtual Hallway platform have allowed patients to avoid a wait list entirely.
Of the remaining 16 per cent of Virtual Hallway consultations, 89 percent were initiated for a reason other than avoiding a specialist referral, such as reviewing a care plan, seeking medication advice, or provide a second opinion on a prognosis.
"Our partnership with the Nova Scotia Health Innovation Hub and the CAN Health Network has allowed us to rapidly demonstrate real results and impact for both patients and providers," says Justin Hartlen, CEO and Co-founder, Virtual Hallway. "It's exciting to see the Virtual Hallway specialist community efficiently bringing their knowledge and tools directly to the heart of patient care – primary care providers."
The successful project provided an efficient and rapid system for specialist consultation by connecting primary care providers with timely advice approach to investigation and treatment, helping avoid delays to patient care.
"The CAN Health Network is proud to support Virtual Hallway – a made-in-Canada solution – through the leadership of the Nova Scotia Health Authority," says Dr. Dante Morra, Chair, CAN Health Network. "Adding Virtual Hallway to the Network is another great step in ensuring everyone living in Canada has access to the best home-grown innovative health care technologies that improve both the patient and provider experience, workflow efficiency, and clinical outcomes."
Given the success of the project the three organizations will be extending the partnership to March 2023, to continue to identify ways in which they can impact access to care for all Canadians.
"Results like this are what fuels us," says Dr. Gail Tomblin Murphy, Vice President, Research, Innovation and Discovery and Chief Nurse Executive, Nova Scotia Health. "It is extremely rewarding to witness the direct impacts on patients care and leading change for the system' This is just one example on how our team is directly improving patient care"
ABOUT NOVA SCOTIA HEALTH'S INNOVATION HUB
Nova Scotia Health's Innovation Hub is leading innovation and research within the healthcare system to deliver high-impact solutions for patients and providers. Through strategic partnerships with clinical champions, industry, healthcare foundations, governments and academic partners, Nova Scotia Health's Innovation Hub is transforming healthcare through the best available evidence and innovative solutions. It's also a catalyst that is fostering an innovative mindset and approaches to bring about positive system change. Learn more about the Innovation Hub at innovationhub.nshealth.ca
ABOUT VIRTUAL HALLWAY
Virtual Hallway is a physician owned and operated service. The service started based on their observation that patients were waiting too long for specialist consultation and that these delays were leading to more chronic, and disabling conditions. The idea was that specialist input earlier on in a course of illness could streamline a person's treatment, and optimize their care. Learn more about Virtual Hallway at https://virtualhallway.ca/
ABOUT CAN HEALTH NETWORK
The CAN Health Network is a Canada-first approach to technology adoption. It helps break down barriers to scaling in the health-care system and provides an environment for companies to scale to their full potential. Currently operating in Ontario, Western and Atlantic Canada, the CAN Health Network was recently awarded $30 million by the Government of Canada as part of Budget 2022 to expand into Quebec, the Territories and with Indigenous Communities. Learn more about the CAN Health Network at www.canhealthnetwork.ca.
Sign up for email
Error: Contact form not found.