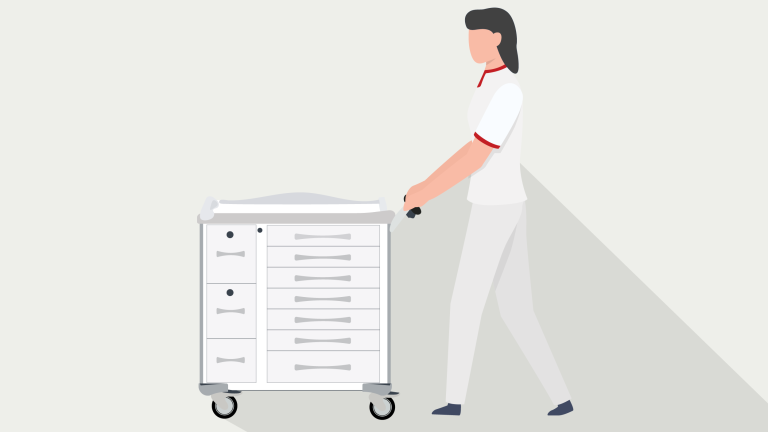 Bruyère's long-term care (LTC) homes are seeking a solution to integrate ergonomic medication carts that can enhance the efficiency and safety of delivery of medications to residents resulting in improved resident care and a decline in staff injuries.
Bruyère is posting this Call for Innovation to seek out qualified Canadian companies who can meet the desired outcomes. Bruyère and CAN Health reserve the right to not move forward with this project at their full discretion and in particular if there are no qualified Canadian companies that can reasonably meet the desired outcomes.
To qualify for a CAN Health project, the company must have its headquarters in Canada and/or the majority (>50%) of the company owned by Canadians and/or have a significant economic impact to Canada, including a high potential for Canadian job creation >70% of contract value for distributors of a non-Canadian solution, independent autonomy over business operations and product development (for subsidiaries, affiliates or distributors), current Canadian presence (office(s) and clients) and benefit from the CAN Health Network. Priority will be given to companies that meet all eligibility criteria.
For more information on the Call for Innovation process and the commercialization projects funded by CAN Health Network, please refer to the FAQ page on the CAN Health Network website: https://canhealthnetwork.ca/faq/
This opportunity is closed.
Problem Statement and Objective(s)
Problem Statement: The non-ergonomic medication carts that are currently being used cause various challenges in the LTC facilities. The lack of maneuverability and accessibility contribute to nurse fatigue and potential musculoskeletal injuries. This further causes, delays in medication administration due to cart-related challenges may impact resident care and potentially compromise their health.
Objectives: Implementing ergonomic medication carts will decrease costs incurred on the organization due to staff injuries and absenteeism. Using ergonomic medication carts will also enhance staff's work efficiency in administering medication and consequently improve resident care.
Desired outcomes and considerations
Essential (mandatory) outcomes
Significant reduction in physical demand to push medication carts.

Objective reduction of force required to push by >30 force.
Staff questionnaire, with >80% reporting a reduction in physical demand.

Increase in medication administration efficiency; A time study of the nurse medication administration with a 5% reduction of time.
Above 80% of staff reporting enhanced satisfaction in delivering medications with the new carts.
90% reduction in number of work incident report resulting in musculoskeletal injuries related to the manipulation of medication carts.
Additional outcomes
Reduce staff injuries and their absenteeism.
Reduce physical strain from pushing the carts but also from leaning/bending down to access bottom drawers.
Enhance staff's work efficiency in administering medications timely and more quickly and consequently improve resident care.
Increase staff's job satisfaction and wellness.
Decrease costs incurred on the organization due to staff injuries and absenteeism.
Background and context
Non-ergonomic medication carts currently used at Bruyère's long-term care (LTC) homes are the root cause of multiple concerns nurses face every day.
One prominent issue is the physical strain associated with pushing heavy medication carts throughout the day, which can lead to fatigue and musculoskeletal discomfort or injuries. Additionally, maneuverability issues arise due to the bulkiness and hard-to-roll wheels of these carts, making it difficult for nurses to navigate crowded hallways and busy environments.
Furthermore, the current design of medication carts lacks adjustability and accessibility, with drawers placed too low and being difficult to reach. These challenges not only affect the health and job satisfaction of nurses but can also have repercussions for patient care, as it delays in medication administration.
Given the scale and impact of these concerns, there is a growing need to address these issues and implement solutions that prioritize the well-being of nurses and enhance the efficiency of medication delivery, ultimately leading to improved resident care.
This opportunity is closed.