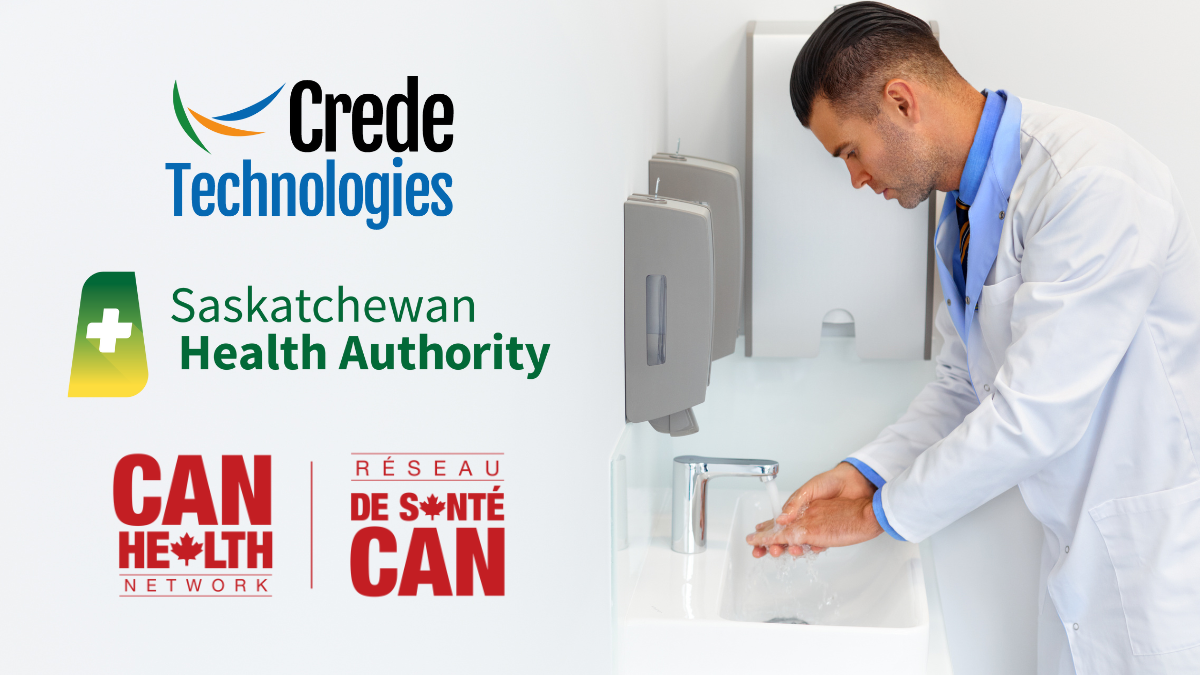 Crede Technologies is improving patient care and reducing costs for health care organizations
June 27, 2023 (Saskatoon, SK) – Following a successful commercialization project funded by the Coordinated Accessible National (CAN) Health Network, Saskatchewan Health Authority (SHA) has procured Crede Technologies Inc.'s (Crede Technologies) Hand Hygiene Auditing Platform through a competitive RFP process to help reduce health care-associated infections (HAIs) across the province. As a result of the RFP, this technology will now be more accessible to members within CAN Health, including provincial health authorities, hospitals, and long-term care homes.
Health care-associated infections (HAIs) are mild to life-threatening infections that patients can get in any health care facility while receiving care or treatment for another condition. According to the Government of Canada, it's estimated that 220,000 Canadian patients develop HAIs each year, and more than 8,000 of these patients die as a result.
Recognizing that hand hygiene is one of the most important factors in preventing the spread of HAIs, SHA has been working closely with Crede Technologies over the past year to establish a provincial hand hygiene program, and improve patient care within its organization.
Crede Technologies is a Vancouver-based company dedicated to specialized custom software development for the health care industry. Its Hand Hygiene Auditing Platform allows organizations to directly observe and capture the hand hygiene patterns of its employees, using a mobile device or fully automated paper-based system. The platform enables health care organizations to identify hand hygiene improvement opportunities and problem areas that can be targeted with enhanced education, leading to reduced infections.
"Our solution helps increase hand hygiene compliance rates by identifying opportunities for improvement, thereby helping reduce HAIs and improving patient care, and potentially saving hospitals thousands of dollars each year by lowering costs associated with infections," says Scott Addison, Chief Operating Officer, Crede Technologies.
To date, SHA has seen a 100% reduction in Infection Prevention and Control (IPAC) staff time spent manually inputting, analyzing and distributing data, and an estimated $200,000 in cost savings per year.
The collaboration between SHA and Crede Technologies was initiated through a commercialization project launched by the CAN Health Network, a federally funded organization that provides Canadian companies with access to real health care environments where they can implement their market-ready solutions, gain valuable feedback from end-users, and scale across the Network and beyond.
"Procurements like this one between SHA and Crede Technologies are why the CAN Health Network exists," says Dr. Dante Morra, Chair, CAN Health Network. "By working together, we've supported a company from Vancouver scale across the largest health care organization in Saskatchewan, and hopefully have opened the doors to more health care organizations across Canada."
"Our government is continuing to make smart investments in innovation, technology development and business growth to secure a healthy and prosperous future for all Canadians," said the Honourable Dan Vandal, Minister responsible for PrairiesCan. "The implementation of this new technology is an important advancement that helps protect the health of Canadians and reduce the costs associated with health care."
-30-
ABOUT CREDE TECHNOLOGIES INC
Crede Technologies Inc. is a company dedicated to specialized custom software development for the Health Care Industry. Its focus is on building systems to support improved Infection Prevention and Control and Quality and Patient Safety in acute, residential, and community settings with an emphasis on auditing and survey tools. Learn more at www.credetechnologies.com
ABOUT SASKATCHEWAN HEALTH AUTHORITY
The Saskatchewan Health Authority is the largest organization in Saskatchewan, employing more than 40,000 employees and physicians. Together, it is responsible for the delivery of safe, high quality health care for the entire province.
ABOUT CAN HEALTH NETWORK
The CAN Health Network is a Canada-first approach to technology adoption. It helps break down barriers to scaling in the health care system and provides an environment for companies to scale to their full potential. Currently operating in Ontario, Western and Atlantic Canada, the CAN Health Network was recently awarded $30 million by the Government of Canada as part of Budget 2022 to expand into Quebec, the Territories and with Indigenous Communities. Learn more about the CAN Health Network at www.canhealthnetwork.ca.
Media Inquiries:
Scott Addison
Chief Operating Officer
Crede Technologies
E: [email protected]
C: 437-929-5151
SHA Media Relations
1-833-766-4392
[email protected]
Natasha Zelinski
Communications Advisor
CAN Health Network
E: [email protected]
C: 647-984-7089
Sign up for email
Error: Contact form not found.