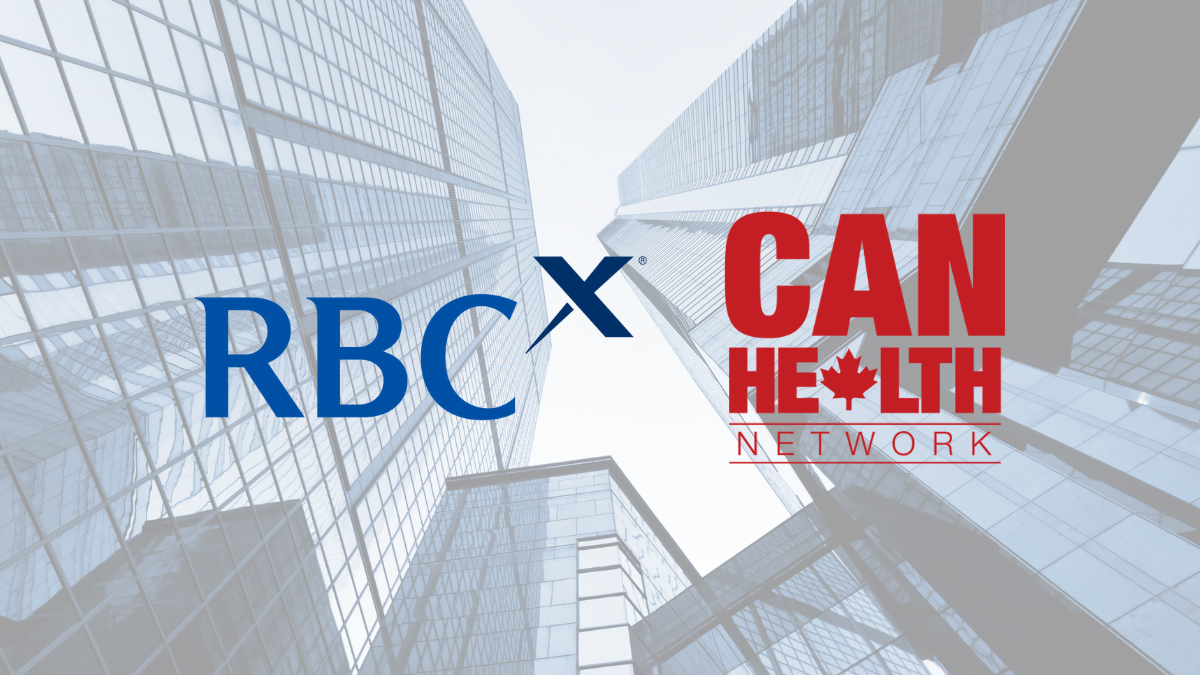 September 9, 2021 (Toronto, ON) – The Coordinated Accessible National (CAN) Health Network, has teamed up with their first financial services provider, Royal Bank of Canada (RBC) through its full-service platform RBCx, to support Canadian medtech companies from start-up to scale, with the goal of strengthening the health care system and driving economic growth and prosperity.
The CAN Health Network works directly with health care operators to identify their biggest challenges and match them with Canadian-made technology solutions. The ultimate goal is to enable Canadian companies to be rapidly validated, procured, and scaled across the country and abroad. Through the Network, companies benefit with access to clinicians and data to validate their solutions in a real life setting and resources to provide them with a competitive advantage and increased opportunities for procurement. In addition to these benefits, companies now have access to the RBCx full-service banking platform designed to accelerate the entrepreneurial journey.
CAN Health Network selected RBC as its first financial strategic partner for its strong presence in the health sector in Canada. RBC recently entered into a collaboration with the Royal College of Physicians and Surgeons [and has an on-going relationship with the Canadian Cardiovascular Society].
RBCx, Royal Bank of Canada's full-service, market-leading platform for technology companies, will provide CAN Health Network companies with innovative financial products, including credit and specialized banking, exclusive offers from industry-leading providers within the RBCx Marketplace, deep sector expertise to support commercialization efforts, and a suite of custom banking services for their members, including wealth management and personal finance.
"We are proud to partner with the CAN Health Network in the mission to support scaling Canadian medtech companies through capital and non-capital solutions," said Nicole Kelly, Director of Platform Engagement, RBCx. "The CAN Health Network presents Canadians with an unprecedented advantage to drive innovation, create successful Canadian companies, and generate jobs in the health care sector. We believe that united we will create a stronger Canadian marketplace for businesses to scale and thrive."
"RBC's breadth of coverage in the health tech sector provides tremendous opportunity for CAN Health," says Dr. Dante Morra, Chair, CAN Health Network. "Together, our combined programs, advice and counsel will help provide Canadian companies with the competitive edge required to succeed at home and abroad."
ABOUT RBCx
RBCx is a full-service, market-leading platform to accelerate the entrepreneurial journey at every stage of growth – providing access to a complete suite of capital solutions, innovative products and services, and operational expertise to help technology companies scale. www.rbcx.com
ABOUT CAN HEALTH NETWORK
The CAN Health Network is a Canada-first approach to technology adoption. It helps break down barriers to scaling in the health care system and provides an environment for companies to scale to their full potential. Currently operating in Ontario, Western and Atlantic Canada, the CAN Health Network plans to expand into Quebec and the North. The Network has received a total of $12.45 million in funding from the Government of Canada to build a national platform that harnesses the purchasing power of health care organizations. To learn more about the CAN Health Network, visit www.canhealthnetwork.ca.
For more information:
Alexis Fung Fook
Manager, Communications & Marketing, CAN Health Network
Nicole Kelly
Director, Platform Engagement, RBCx
Sign up for email
Error: Contact form not found.