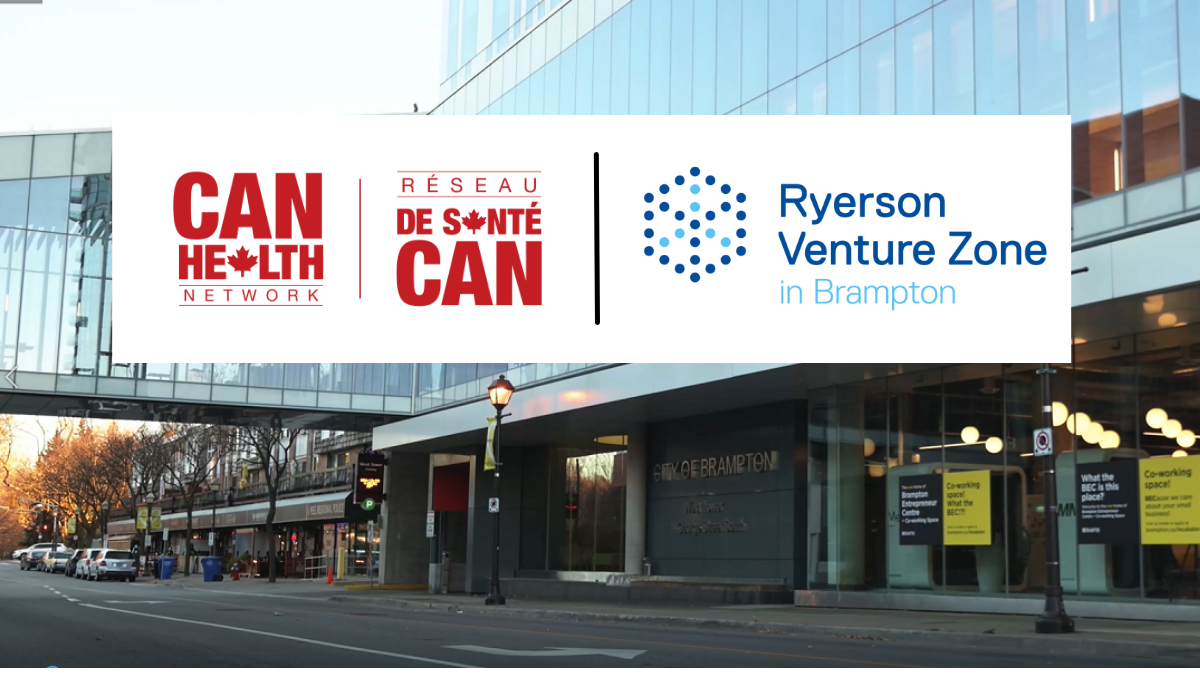 November 30, 2021 (Brampton, Ontario) – The Coordinated Accessible National (CAN) Health Network and the new Ryerson Venture Zone (RVZ) in Brampton, Ontario are partnering to support the growth of more winning made-in-Canada technology solutions in the healthcare space. The partnership allows for both programs to refer Canadian health technology companies and entrepreneurs, enabling the opportunity to introduce new solutions to CAN Health's ecosystem and vice-versa, while continuing to explore future opportunities for collaboration.
Created through a joint partnership between the City of Brampton and Ryerson University, Ryerson Venture Zone in Brampton is a locally focused, pre-seed and non-equity incubator that provides early stage tech start-ups with access to industry partners for early market validation as well as opportunities to secure potential pilots with "glocal" SMEs through their Launch program. Its first cohort of 9 start-ups in 2021 focused on the health and wellness sector, while applications for the second cohort in 2022, which is set to include 5 health and wellness start-ups and 10 more start-ups in the smart cities, mobility, and logistics space, have recently closed.

The CAN Health Network is a federally-funded integrated market which reduces barriers to procurement so health-tech companies can quickly and easily bring their innovations to the healthcare sector. It serves as a platform for companies to provide solutions to meet the needs of Canadians and our healthcare organizations.
Both CAN Health and RVZ share the objective of breaking down marketplace barriers for new domestic competitors, while empowering made-in-Canada solutions to address the gaps that exist in our healthcare system. Together, CAN Health and RVZ's combined resources and programs have the opportunity to help provide Canadian companies with the competitive edge they need to succeed and create more jobs at home.
ABOUT RYERSON VENTURE ZONE IN BRAMPTON
A joint partnership between the City of Brampton and Ryerson University, Ryerson Venture Zone in Brampton is a new pre-seed, non-equity incubator that is dedicated to building and growing early stage, high potential technology start-ups in Brampton. We enable connections between aspiring entrepreneurs, current founders, industry experts, industry partners, and customers to build solutions that address hyperlocal issues in the community.
RVZ operates within a culture that fosters a mindset of growth and provides entrepreneurs with deeper industry knowledge and upskilling opportunities through programming, mentorship, and access to the resources they need to create new ventures.
ABOUT THE CAN HEALTH NETWORK
The CAN Health Network is a Canada-first approach to technology adoption. It helps break down barriers to scaling in the healthcare system and provides an environment for companies to scale to their full potential. Currently operating in Ontario, Western and Atlantic Canada, the CAN Health Network plans to expand to Quebec and the North. The Network has received $3.5 million in 2019 and $3.25 million in 2021 from the Federal Economic Development Agency for Southern Ontario (FedDev Ontario), $3.5 million from PrairiesCan and PacifiCan, and most recently, $2.2 million from the Atlantic Canada Opportunities Agency to build a national platform that harnesses the purchasing power of healthcare organizations. To learn more about the CAN Health Network, visit www.canhealthnetwork.ca.
Sign up for email
Error: Contact form not found.