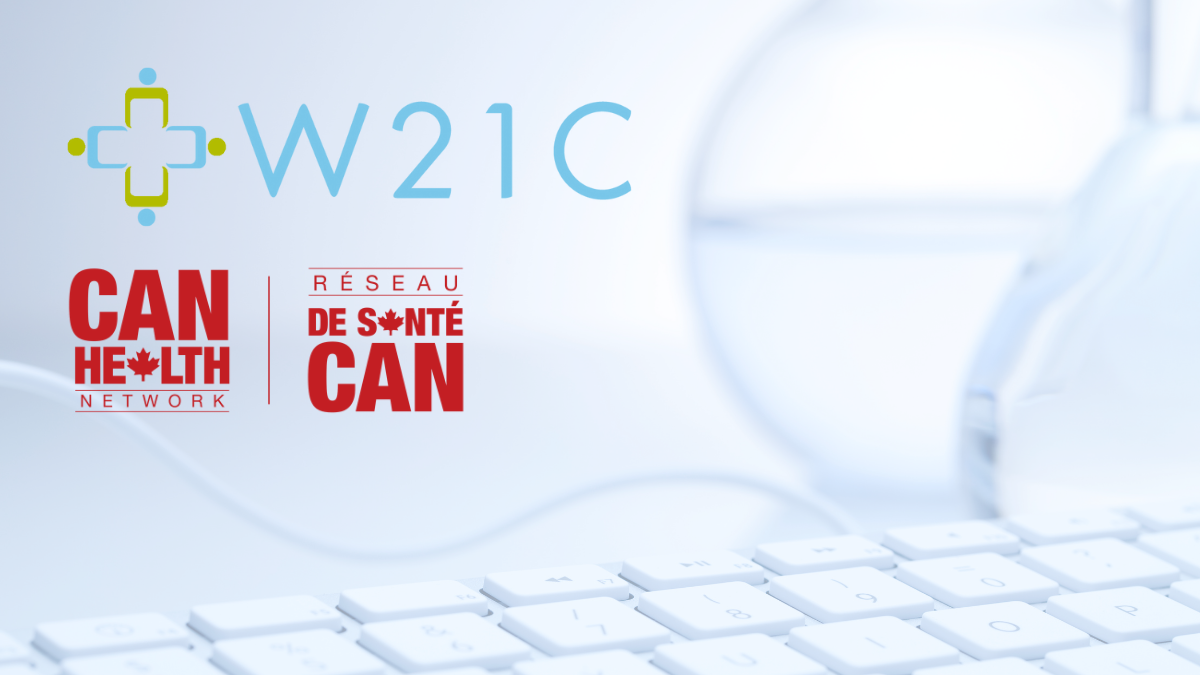 November 25, 2021 (Calgary, Alberta) – The Coordinated Accessible National (CAN) Health Network is partnering with the University of Calgary's W21C Research and Innovation Centre (W21C) to reach their shared goal of introducing more homegrown technology solutions into Canada's healthcare sector, while assisting an even greater number of companies on their journeys to scale.
W21C is a health-care research and innovation initiative based in the O'Brien Institute for Public Health at the Cumming School of Medicine. Like the CAN Health Network, W21C works directly with academia, government, and industry partners to bring pivotal ideas into Canada's health-care industry through helping companies navigate product development, market fit and scalability.
"We're both after the same goal and the same future for Canada," says Dr. Dante Morra, MD, Chair, CAN Health Network. "Joining forces and combining our resources means that we'll reach this goal more rapidly than before."
"W21C is doing incredible work that is not only changing the lives of patients, but is also helping our entrepreneurs develop and scale first class solutions here at home."
What makes W21C so unique is its simulation capabilities and access to the Living Laboratory, located in the Foothills Medical Centre. The Living Laboratory is a beta-test site exploring novel approaches to health-care delivery, and the use of new and innovative medical technologies.
Currently, W21C is working on 69 projects to improve patient safety and quality of care. W21C provides technology evaluations and clinical trials support for digital health applications, personal protective equipment (PPE), therapeutics, medical devices, and much more.
"A primary aim for the University of Calgary through the growth through focus plan is to increase innovation to tackle challenging problems, and the CAN Health Network will help us do this," says Dr. Tom Stelfox, MD, PhD, Scientific Director of the O'Brien Institute. "This new partnership with W21C will bring in additional support needed to address the challenges facing our health systems."
"We are excited to be part of a network that is driving changes to our health systems with tangible outcomes," says Jill de Grood, Director of Development and Partnerships, W21C. "We look forward to creating new connections and collaborations with innovators across Canada to make care better for our communities."
ABOUT CAN HEALTH NETWORK
The CAN Health Network is a Canada-first approach to technology adoption. It helps break down barriers to scaling in the health care system and provides an environment for companies to scale to their full potential. Currently operating in Ontario, Western and Atlantic Canada, the CAN Health Network plans to expand into Quebec and the North. The Network has received $3.5 million in 2019 and $3.25 million in 2021 from the Federal Economic Development Agency for Southern Ontario (FedDev Ontario), $3.5 million from PrairiesCan and PacifiCan, and most recently, $2.2 million from the Atlantic Canada Opportunities Agency to build a national platform that harnesses the purchasing power of health care organizations. To learn more about the CAN Health Network, visit canhealthnetwork.ca.
ABOUT W21C RESEARCH AND INNOVATION CENTRE
W21C is a research and innovation initiative based in the University of Calgary's O'Brien Institute for Public Health and the Calgary Zone of Alberta Health Services. W21C conducts health systems research to make care better by focusing on improving patient safety and quality of health care delivery. For more information, visit www.w21c.org.
ABOUT THE UNIVERSITY OF CALGARY
The University of Calgary is a global intellectual hub located in Canada's most enterprising city. In our spirited, high-quality learning environment, students thrive in programs made rich by research, hands-on experiences and entrepreneurial thinking. Our strategy drives us to be recognized as one of Canada's top five research universities, engaging the communities we both serve and lead. For more information, visit ucalgary.ca/eyeshigh.
For more information:
CAN Health Network
Alexis Fung Fook
Manager, Communications & Marketing
W21C Research and Innovation Centre
Léora Rabatach
Manager, Communications, Partnerships & Stakeholders Relations
403.801.6170
Sign up for email
Error: Contact form not found.