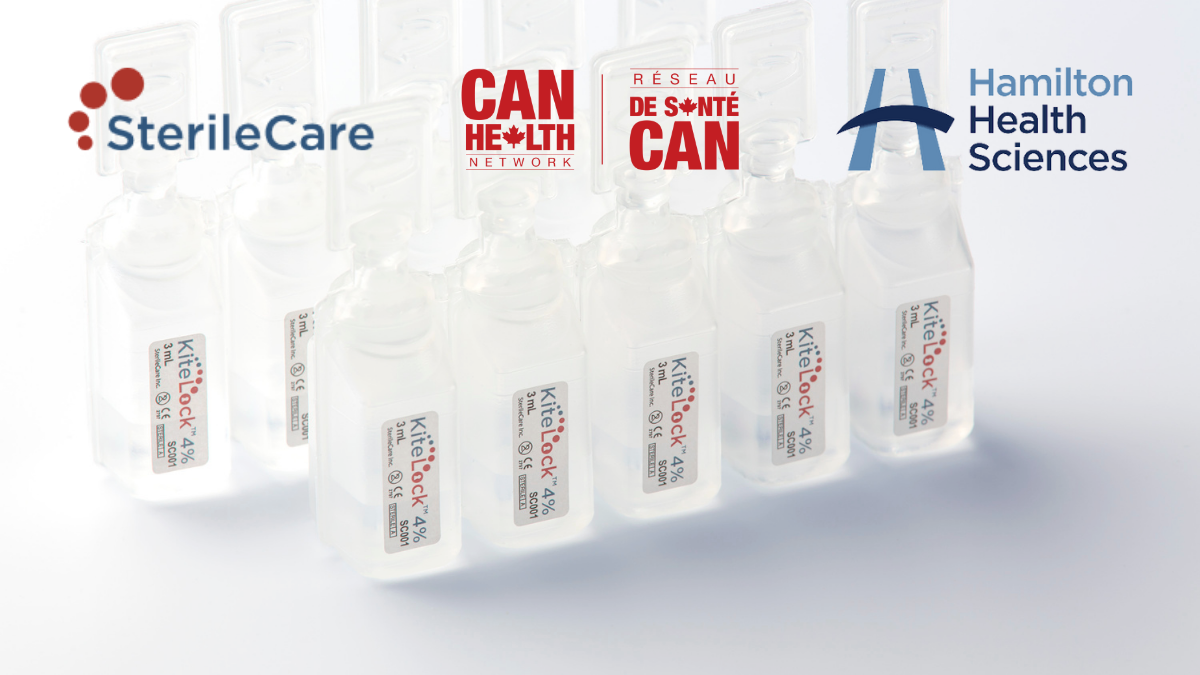 December 3, 2021 (Hamilton, Ontario) – Hamilton Health Sciences (HHS) has introduced the use of SterileCare's KiteLockTM solution to clean venous catheters for oncology patients, through an ongoing Coordinated Accessible National (CAN) Health Network commercialization project. With the help of SterileCare, HHS hopes to advance patient safety.
A venous catheter is a tube that's connected to the bloodstream which is used to provide medication to patients. For those with cancer, it's kept in place long-term to prevent the need for regular and ongoing injections. While this is usually the best option for these patients, it does require careful monitoring for infections and blockages. KiteLockTM solution is the newest and most advanced product that can help keep venous catheters clean and free of bacteria.
"Our primary focus is to provide the highest level of care to our patients," says Ted Scott, VP Research and Chief Innovation Officer at HHS. "We engaged the CAN Health Network and launched this project with SterileCare with the intention of improving outcomes for our oncology patients undergoing treatment. Plus, we're keen to utilize a made-in Canada product."
KiteLockTM is trying to address three main issues which include reducing infections, reducing the frequency of replacing venous catheters and reducing the need for blood-thinning medications. This not only benefits patients, but has potential cost savings for the healthcare system. HHS will evaluate both the patient benefits and potential cost savings while the product is in use.
"KiteLock bridges a significant gap in the market. With the prevention of infection and blockages as our top priority, our catheter lock solution is the only product proven to eradicate all problematic bacteria," says Karen Mueller, CEO of SterileCare. "By working with the CAN Health Network, we are improving care in new patient populations with each partnership we form, while continuing to scale our business."
The CAN Health Network is a federally-funded integrated market that helps health-tech companies quickly and easily bring their innovations to the healthcare sector. It serves as a platform for companies like SterileCare to provide opportunities to meet the needs of Canadians and our healthcare organizations.
"It is Canadian-made products like SterileCare's solution that are vitally important to our health sector – directly impacting the lives of patients," says Dr. Dante Morra, Lead and Chair of the CAN Health Network. "KiteLock has the ability to reduce the length of stay and the cost to the health care system by preventing complications due to infection, making this an attractive resolution to a common problem. We look forward to seeing the possible positive impact it could have for Hamilton Health Sciences and Fraser Health Authority."
An additional CAN Health commercialization project with SterileCare's KiteLockTM solution is scheduled to launch early next year with British Columbia's Fraser Health Authority in its Intensive Care Unit. Hamilton Health Sciences and SterileCare's work with oncology patients began this fall and will be assessed in early 2022.
Au sujet du Réseau de santé CAN
The CAN Health Network is a Canada-first approach to technology adoption. It helps break down barriers to scaling in the health care system and provides an environment for companies to scale to their full potential. Currently operating in Ontario, Western and Atlantic Canada, the CAN Health Network plans to expand to Quebec and the North. The Network has received $3.5 million in 2019 and $3.25 million in 2021 from the Federal Economic Development Agency for Southern Ontario (FedDev Ontario), $3.5 million from PrairiesCan and PacifiCan, and most recently, $2.2 million from the Atlantic Canada Opportunities Agency to build a national platform that harnesses the purchasing power of health care organizations. To learn more about the CAN Health Network, visit www.canhealthnetwork.ca.
Pour plus de renseignements :
Wendy Stewart
Public Relations Specialist, Communications & Public Affairs, Hamilton Health Sciences
Karen Mueller
Directrice générale, SterileCare Inc.
Alexis Fung Fook
Manager, Communications & Marketing, CAN Health Network
Inscription aux mises à jour
Error: Contact form not found.