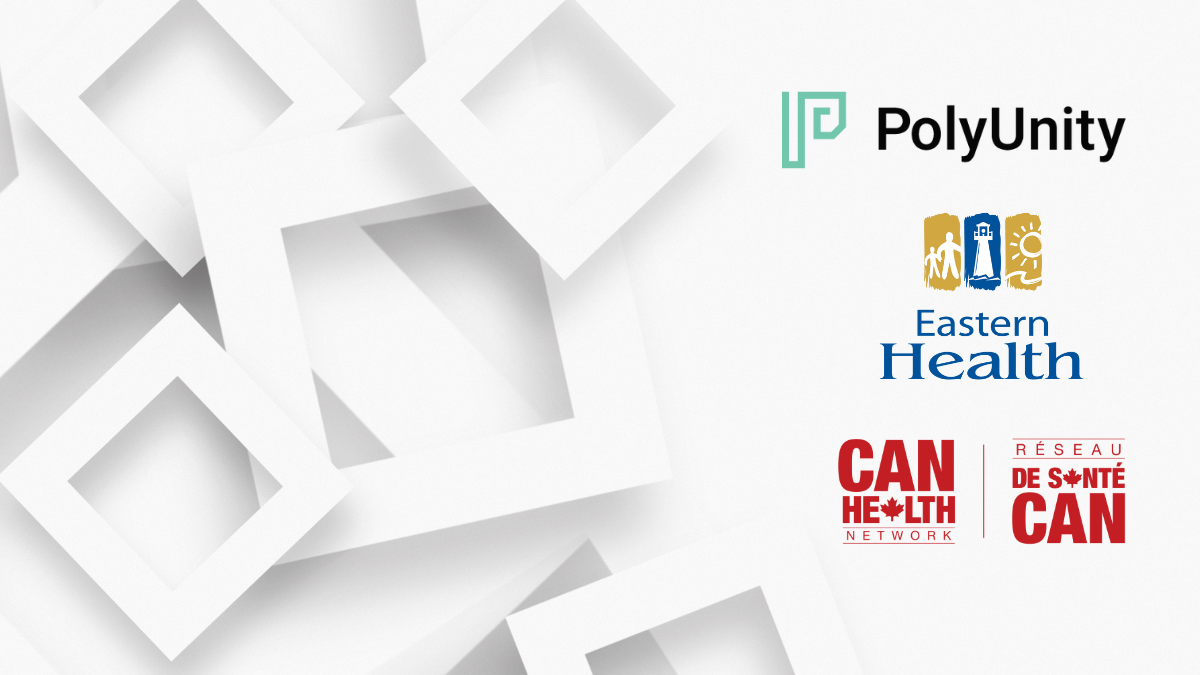 Enhancing supply chain with rapid product design, digital inventory, and additive manufacturing through PolyUnity Tech Inc.

March 13, 2023 (St. John's, Terre-Neuve-et-Labrador) – Following a successful commercialization project funded by the Coordinated Accessible National (CAN) Health Network, Eastern Health has procured PolyUnity Tech Inc's (PolyUnity) 3D printing solution for three years to help build supply chain resilience, decrease procurement costs, and enhance patient care. PolyUnity is a Newfoundland and Labrador based company that leverages digital manufacturing to build supply chain resiliency and reduce the cost, time and complexity of traditional health care procurement. Eastern Health led the successful RFP process which will give CAN Health Network members, including some of Canada's leading hospitals and health authorities, greater access to PolyUnity's solution.
The COVID-19 pandemic exposed major vulnerabilities and uncertainties in global supply chains and manufacturing systems. These uncertainties are especially prevalent for health care organizations across the country that are facing increased challenges with product availability, supply chain disruption, and administrative burdens associated with procurement. Additionally, equipment and service availability can affect patient care, and result in financial costs for replacement medical devices and parts.

"PolyUnity's i3D.Health solution is a fully managed product design, digital inventory and manufacturing solution that enables health care providers and their networks to design, access and produce what they need on-demand," says Mark Gillingham, President, PolyUnity. "Importantly, the solution is scalable across different regions and centres, including rural and remote areas."
The i3D.Health library is accessible via the internet and the product can be printed anywhere there is internet access and a 3D printer making it ideal for areas across the Eastern Health region.
PolyUnity has developed over 200 innovative and problem-solving medical devices (Class 0 and 1) with partners, including Eastern Health, the Children's Hospital of Eastern Ontario (CHEO) and other health care organizations. PolyUnity's digital inventory is rapidly growing and holds a wide variety of products for most health care departments that benefits patients. Examples include patient molds for bolus creation in radiotherapy which decreases the time commitment for patients, novel and replacement parts for biomedical engineering, and an innovative suite of products for laboratory services.
Since March 2022, Eastern Health first began using PolyUnity's Additive Manufacturing as a Service (AMaaS) solution to deliver an innovative and more efficiently integrated supply chain solution.
"Eastern Health was pleased to lead a national procurement following our project focused on digital manufacturing to build supply chain resilience. We now have the ability to print products on our own locally rather than rely on external suppliers," says Ron Johnson, Vice President of Innovation and Rural Health, Eastern Health "By partnering with a local Atlantic company through the CAN Health Network, we were able to achieve costs savings, and maximize the use of our equipment for patients, and enhance patient care by designing and implementing innovative products that improves the patient experience."
Through its work with PolyUnity, Eastern Health's innovation team has validated over $320,000 in value delivered, including $100,000 in cost savings from reduced equipment downtime and a reduction in procurement, inventory, shipping, and distribution costs, and has reduced its distance between manufacturing site to composition site to less than 300 kilometres. The solution has been used by 20 departments in 13 facilities.
The CAN Health Network is a federally funded organization that provides Canadian companies with access to real health care environments where they can implement their market-ready solutions, gain valuable feedback from end-users, and scale across the Network and beyond.
"It is great to see Eastern Health leading a national initiative for the Network that will not only improve supply chain issues but is contributing to the success of an amazing Canadian company," says Dr. Dante Morra, Chair, CAN Health Network. "With PolyUnity's technology, health care organizations no longer have to outsource for inventory, but rather can access and manufacture what they need within their own walls."
"This agreement represents an incredible opportunity for Canadian health care organizations to adopt these exponential global technologies more efficiently. Together, we will forge a new and prosperous path for the Province of Newfoundland and Labrador, Canadian health care, and beyond. PolyUnity is excited to be a part of this new path," says Jacqueline Lee, CEO, PolyUnity.
-30-
À PROPOS D'EASTERN HEALTH
Eastern Health is the largest, integrated health authority in Newfoundland and Labrador employing approximately 13,000 dedicated employees, over 700 medical staff, and is supported by hundreds of volunteers, including members of numerous auxiliaries and fundraising foundations. With an annual budget of approximately $1.7 billion, the authority offers the full continuum of health and community services including public health, long-term care, community services, hospital care and unique provincial programs and services. Serving a population of over 300,000, Eastern Health's geographic boundaries extend west from St. John's to Port Blandford including all communities on the Avalon, Burin and Bonavista Peninsulas.
À PROPOS DE POLYUNITY TECH INC.
PolyUnity is a Canadian healthcare technology company with a driving purpose to "Improve Healthcare Experiences". Their mission is to partner with healthcare organizations and use agile manufacturing to provide efficient, less expensive solutions that reduce frustrations. PolyUnity's i3D healthcare solutions significantly reduces the cost and complexity traditional healthcare procurement, builds supply chain resiliency and reduces its carbon footprint. It enables healthcare providers and their networks to design, access and produce what they need on-demand. Visit PolyUnity for more information and connect with them on LinkedIn, YouTubeet Facebook.
À PROPOS DU RÉSEAU DE SANTÉ CAN
The CAN Health Network is a Canada-first approach to technology adoption. It helps break down barriers to scaling in the health-care system and provides an environment for companies to scale to their full potential. Currently operating in Ontario, Western and Atlantic Canada, the CAN Health Network was recently awarded $30 million by the Government of Canada as part of Budget 2022 to expand into Quebec, the Territories and with Indigenous Communities. Learn more about the CAN Health Network at www.canhealthnetwork.ca/fr
Contact for media inquiries and more information:
Mark Gillingham
Président
PolyUnity Tech Inc.
T: (709) 699-8709
Natasha Zelinski
Conseillère en communications
Réseau de santé CAN
Tracey Boland
Gestionnaire des relations médias
Eastern Health
T: (709) 777-1412
Inscription aux mises à jour
Error: Contact form not found.