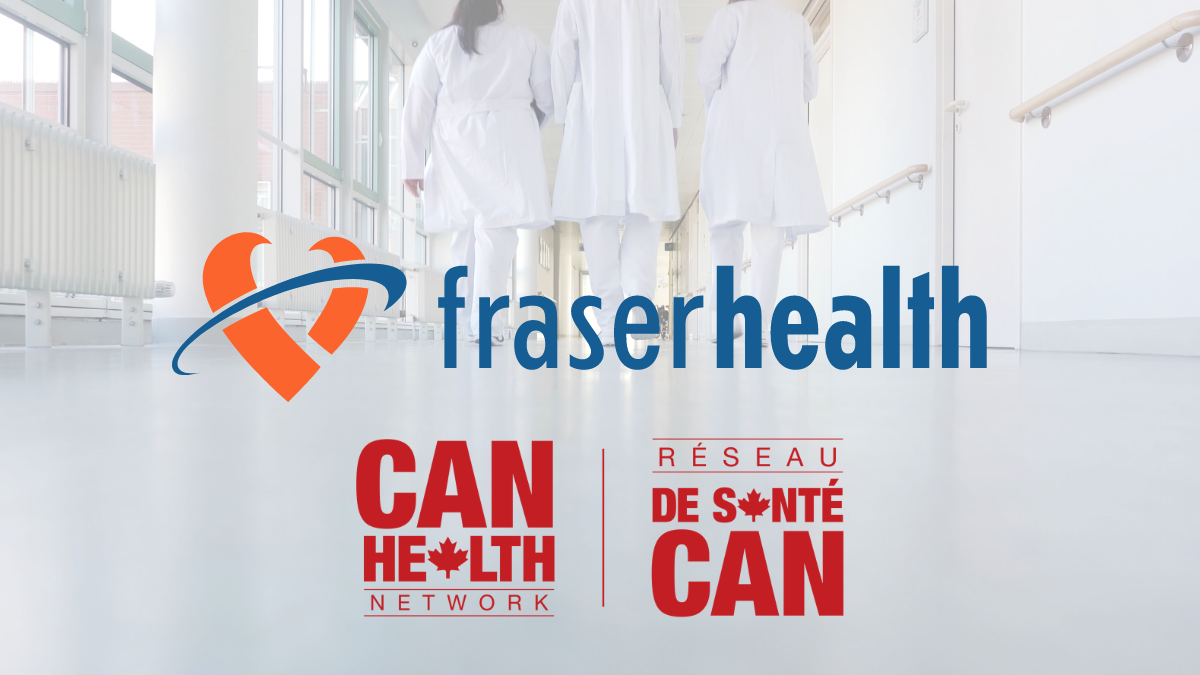 September 20, 2021– The Coordinated Accessible National (CAN) Health Network has partnered with Fraser Health in British Columbia, making it the Network's fifth health care operator, or "Edge", in the Western Region. Fraser Health is one of five regional health authorities in the province, and is responsible for the delivery of health services to over 1.9 million people, including over 62,000 Indigenous peoples, in 20 diverse communities. Fraser Health actively supports the Network's mission to maximize procurement opportunities for Canadian companies while propelling exceptional health care across the country.
As an Edge, Fraser Health will work with the CAN Health Network to identify problems within its health landscape that could be solved by innovative technology. Once an issue is identified, the Network locates a market-ready Canadian solution and works with Fraser Health to ensure the product or service succeeds in the marketplace. With access to the CAN Health Network, Fraser Health will be able to introduce innovative, medical technology solutions to its patients and physicians quicker than ever before, while increasing procurement opportunities for Canadian tech companies.
As CAN Health's newest Edge, Fraser Health has already played an indispensable role in moving innovation forward across British Columbia. Fraser Health offers Fraser Health Innovation Academy (iCademy), an initiative that provides a pathway for Canadian organizations to advance an innovative solution with the health authority to enhance health service delivery and patient experience. In addition to iCademy, Fraser Health is making significant investments into health care throughout the region to upgrade hospitals, and expand and enhance specialized care options to meet the needs of its communities.
With combined resources and efforts, CAN Health and Fraser Health will strengthen each other's innovation network and work to make top-quality care more accessible to patients not only in British Columbia, but across Canada and beyond.
"We are pleased to be a part of the CAN Health Network alongside other health care providers from across Canada, including Saskatchewan Health Authority, Alberta Health Services, Shared Health Inc. and Vancouver Coastal Health."
Linda Dempster, Vice-President, Patient Experience & Pandemic Response, Fraser Health.
"Fraser Health's commitment to improving British Columbia's health care landscape, and dedication to Canadian innovation, has made them a leader across the province. Now, as a CAN Health Edge, we will work together to maximize these efforts while introducing new health care solutions in the West and the entire country."
Dr. Dante Morra, Chair, CAN Health Network
Sign up for email
Error: Contact form not found.