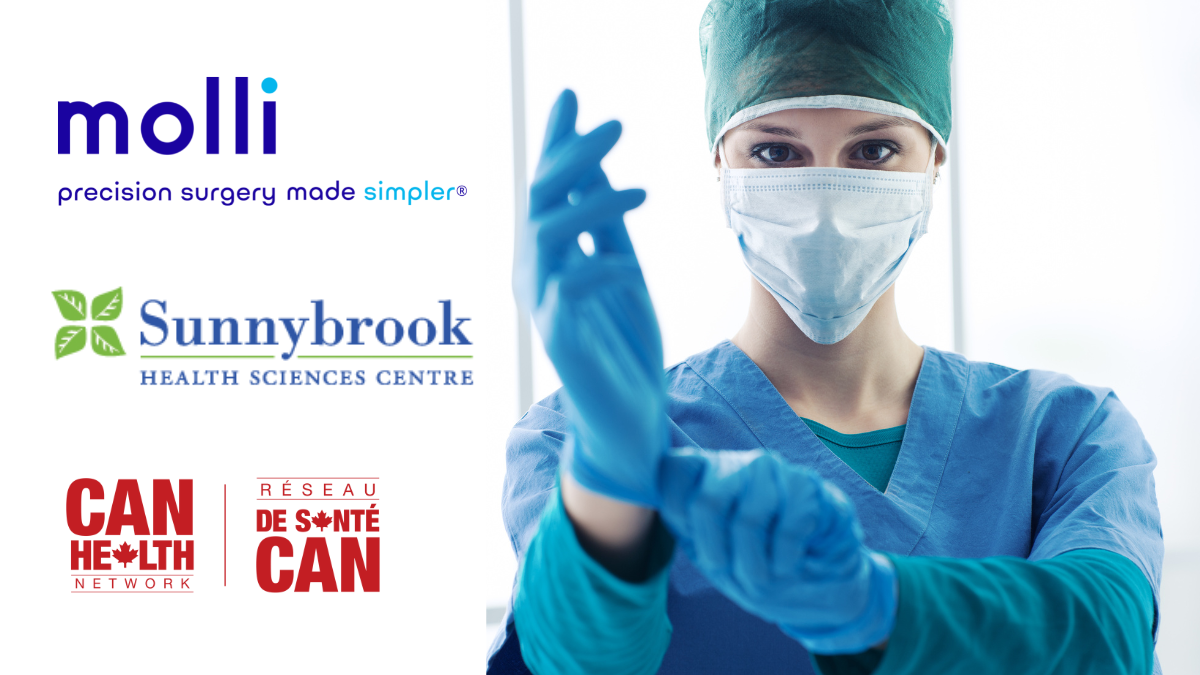 Precision surgical technology now available to a network of 29 Canadian health care organizations could help thousands of patients across Canada
December 15, 2022 (Toronto, Ontario) – Following a successful commercialization project funded by the Coordinated Accessible National (CAN) Health Network, MOLLI®, a homegrown, wire-free, radiation-free technology for breast cancer surgery, has been formally procured by Sunnybrook Health Sciences Centre (Sunnybrook) under an advanced contract award notice (ACAN) process which can be leveraged by other health care organizations across Canada.
MOLLI Surgical's Health-Canada approved, and FDA-cleared MOLLI features the smallest localization marker on the market that can be used with all soft tissues. MOLLI Surgical is looking forward to applying the benefits of this technology beyond breast disease. The MOLLI Wand® detects the MOLLI Marker® — much like a GPS — helping surgeons pinpoint lesions more efficiently and with improved accuracy and complete confidence, translating into better surgical options and an improved experience before, during and after surgery.
"MOLLI began in the hospital as a way to create a better experience for the thousands of patients who are undergoing breast cancer surgery each year," said Ananth Ravi, CEO and co-founder of MOLLI. "Scaling MOLLI across Canada through the CAN Health Network means that more patients will realize a better experience, more radiologists and doctors will see MOLLI's clinical benefits, and more hospitals will benefit from the improved workflow efficiency. This is a great day for Canadian innovation."
"The technology has benefits for our hospital. By using magnetism, it helps us avoid expensive equipment and extensive safety regulations surrounding radiation and disposal protocols," said Dr. Nicole Look Hong, breast cancer surgeon at Sunnybrook. "MOLLI has also been designed to be compatible with conventional mammography and ultrasound imaging, so we've been able to adopt it smoothly."
The CAN Health Network supports Canadian businesses and health care by identifying and introducing Canadian-made solutions in the health care marketplace. Through commercialization projects like this one launched by Sunnybrook, companies like MOLLI get access to real-world environments, work closely with clinicians to validate their solutions, and benefit from the Network's unique procurement process.
Sunnybrook's selection of MOLLI under an ACAN — in addition to successes with St. Joseph's Healthcare in Hamilton and University Health Network in Toronto — means that it is now a proven solution within the Network, and all CAN Health Network members can leverage the ACAN to support the adoption of MOLLI within their organizations. This includes 29 health care organizations across Canada, including provincial health authorities and hospitals.
"It's no easy feat to get innovative, made-in-Canada technologies adopted across our country, but this is what we strive to do," said Dante Morra, Chair, CAN Health Network. "Congratulations to the MOLLI Surgical team and Sunnybrook on making sure a Canadian product, that has huge impacts on patients and our health care system, can now be scaled across Canada."
-30-
ABOUT MOLLI SURGICAL
MOLLI Surgical started in the operating room, where surgeons were using dated tools to treat cancer patients — and we knew we could do better. Our surgical wand is precise, reliable, easy-to-use, and built with the realities of the operating room in mind. More importantly, it is built with patients in mind. Our technology replaces procedures to mark lesions with one that is more precise, efficient, and cost-effective.
MOLLI® has been recognized by TIME as one of 2022's "Best Inventions" in the Medical Care category. The company has been named to Fast Company's list of the "Next Big Things in Tech," recognizing tech breakthroughs across industries that promise to transform the future. We are proud to build the advanced equipment that patients prefer to have and that physicians prefer to use. Follow us on Facebook, LinkedIn, Twitter, and YouTube.
ABOUT SUNNYBROOK HEALTH SCIENCES CENTRE
Sunnybrook Health Sciences Centre is inventing the future of health care for the 1.3 million patients the hospital cares for each year through the dedication of its more than 10,000 staff and volunteers. An internationally recognized leader in research and education and a full affiliation with the University of Toronto distinguishes Sunnybrook as one of Canada's premier academic health sciences centres. Sunnybrook specializes in caring for high-risk pregnancies, critically ill newborns and adults, offering specialized rehabilitation, and treating and preventing cancer, cardiovascular disease, neurological and psychiatric disorders, orthopaedic and arthritic conditions and traumatic injuries. The hospital also has a unique and national leading program for the care of Canada's war veterans. To learn more about Sunnybrook, visit https://sunnybrook.ca
ABOUT CAN HEALTH NETWORK
The CAN Health Network is a Canada-first approach to technology adoption. It helps break down barriers to scaling in the health-care system and provides an environment for companies to scale to their full potential. Currently operating in Ontario, Western and Atlantic Canada, the CAN Health Network was recently awarded $30 million by the Government of Canada as part of Budget 2022 to expand into Quebec, the Territories and with Indigenous Communities. Learn more about the CAN Health Network at www.canhealthnetwork.ca.
Media inquiries, please contact [email protected]; Natasha Zelinski, Communications, CAN Health Network, [email protected]
Sign up for email
Error: Contact form not found.