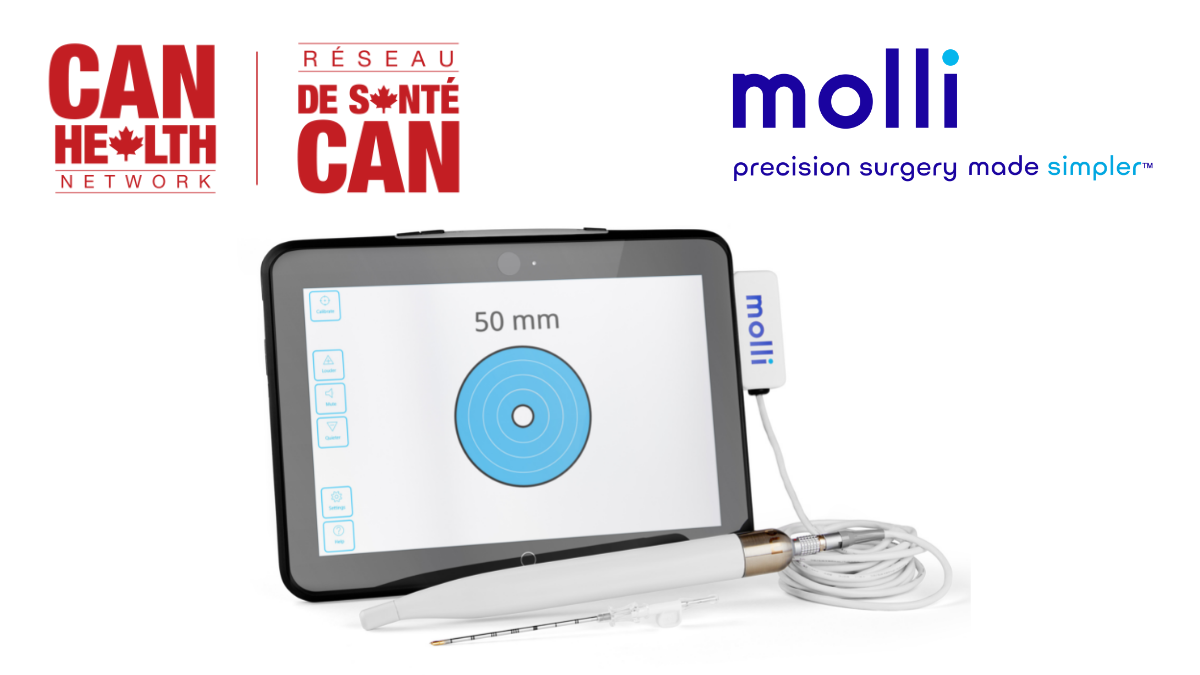 October 19, 2021 (Toronto, Ontario) – The Coordinated Accessible National (CAN) Health Network is proud to announce that Toronto-based MOLLI Surgical is joining the network to scale and market its patient-first solution across Canada. CAN Health will help MOLLI Surgical's wire-free and radiation-free marker technology for breast cancer surgery lesion localization become more accessible to their integrated health care market across Canada.
"Female breast cancer is the most commonly diagnosed cancer in the world," said Fazila Seker, PhD, President and CEO of MOLLI Surgical Inc. "That's why we're committed to developing medical devices that help radiologists and surgeons to be more efficient and effective in treating the disease. We're delighted to be working with the CAN Health Network to leverage its scale and ingenuity."
"We are excited to further explore the use of this surgical solution and study its impact on workflow for our teams and experiences of our patients," said Dr. Frances Wright, Temerty Chair of Breast Surgery, Louise Temerty Breast Cancer Centre, Sunnybrook Health Sciences Centre. "The partnership between MOLLI Surgical and CAN Health will provide Sunnybrook with support and expertise as we move forward with this innovative tool."
"Breast Cancer Awareness Month is an opportunity to both recognize and address the added challenges faced by breast cancer patients through the pandemic," said Dr. Dante Morra, Chair, CAN Health Network. "MOLLI Surgical is doing exactly that by disrupting existing treatment approaches with their innovative marker technology – and CAN Health is leveraging their ingenuity as we support the growth of this made-in-Canada solution."
MOLLI Surgical's Health Canada approved and FDA-cleared MOLLI™ features a 3.2 mm marker designed to put the breast cancer patient first by providing a better experience over traditional wire and other localization options. The MOLLI Wand™ detects the MOLLI Marker™ and visualizes its location on a tablet, helping surgeons locate lesions more efficiently with improved accuracy. The magnetic marker is implanted by a radiologist within 30 days before surgery and creates scheduling flexibility for the patient and hospital, which has become of paramount importance in an unpredictable pandemic environment.
"There are around 17,000 breast-conserving surgeries (BCS) performed on patients across Canada every year to treat breast cancer. This process involves implanting a marker to locate the breast cancer lesion before undergoing surgery," said Ananth Ravi, Chief Science Officer at MOLLI Surgical. "The most common markers currently in use are wired-guided localization or radioactive seed localization. Both have demonstrated disadvantages, including sub-optimal patient experience, inaccuracy, and an increase in the logistical and financial burden on health care operators."
The implementation of MOLLI is being further explored by Sunnybrook's Louise Temerty Breast Cancer Centre, one of the largest, highly specialized breast cancer care teams in Canada. This made-in-Canada collaboration between MOLLI Surgical and Sunnybrook is supported by the CAN Health Network, a federally funded program focused on growing Canadian solutions, and supporting companies to scale across the Canadian marketplace, while strengthening the health care system. As part of the network, health operators, or Edges, in the CAN Health ecosystem will now have easier access to MOLLI, as it also supports MOLLI Surgical's continued growth across the country.
ABOUT MOLLI SURGICAL
MOLLI Surgical started in the operating room, where surgeons were using dated tools to treat cancer patients — and we knew we could do better. Our surgical wand is precise, easy-to-use and built with the realities of the operating room in mind. More importantly, it is built with patients in mind. Our technology replaces procedures to mark tumors with one that is not only kinder — but more accurate, efficient and cost-effective. MOLLI Surgical is proud to build the advanced equipment that patients prefer to have and that physicians prefer to use. For more information, visit mollisurgical.com.
Follow us on Facebook, LinkedIn, Twitter, and YouTube.
ABOUT CAN HEALTH NETWORK
The CAN Health Network is a Canada-first approach to technology adoption. It helps break down barriers to scaling in the health care system and provides an environment for companies to scale to their full potential. Currently operating in Ontario, Western and Atlantic Canada, the CAN Health Network plans to expand into Quebec and the North. The Network has received a total of $12.45 million in funding from the Government of Canada to build a national platform that harnesses the purchasing power of health care organizations. To learn more about the CAN Health Network, visit canhealthnetwork.ca.
For more information:
Cecely Roy
Senior Communications Advisor (Bilingual), CAN Health Network
437-881-8541
Kristin Jones
Jones PR, for MOLLI Surgical
314-537-8187
Sign up for email
Error: Contact form not found.