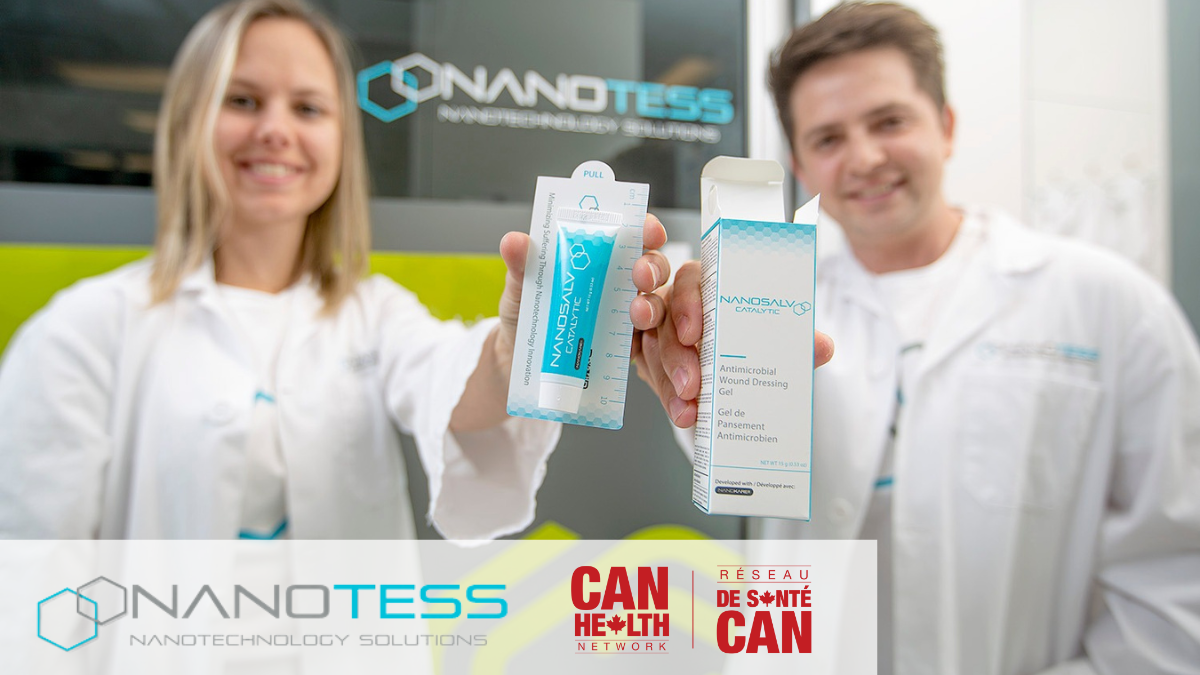 February 15, 2023 (Calgary, AB)– The Coordinated Accessible National (CAN) Health Network is pleased to announce its partnership with NanoTess, a Calgary-based material science company developing nanomaterials to address some of the world's toughest health challenges, beginning with chronic wounds.
Chronic wounds have often been referred to as a silent pandemic because the scale and severity of this problem is staggering. Chronic wounds fail to progress through the normal phases of wound healing and the most common types are diabetic foot ulcers, pressure injuries, and leg ulcers. According to Dr. David Armstrong, a global leader for diabetic foot ulcers, the cost of caring for these wounds is greater than the five most costly forms of cancer and someone loses a limb every 20 seconds due to diabetic foot ulcers alone.
For the patient, chronic wounds can cause emotional and physical distress, reduced mobility, social isolation, amputation, longer hospital stays, and higher mortality rates. For health care providers, the cost of chronic wounds is significant. As stated by Nurses Specialized in Wound, Ostomy, and Continence Canada (NSWOCC), wound care costs Canada $3.9 billion a year.
NanoTess aims to bring their expertise in nanotechnology to improve chronic wounds outcomes with NanoSALV, an advanced wound dressing gel, that aims to provide broad-spectrum infection protection while facilitating healing and inflammatory modulation. As demonstrated in real world evidence studies, this technology has been successfully used where standard of care dressings have failed.

Megan Leslie, CEO of NanoTess says "with our Canada-wide rollout we are excited to be one step closer to achieving our vision of minimizing unnecessary suffering through nanotechnology innovation. We have personally lost family members due to chronic conditions and lived first hand the damage chronic wounds can do to a family. NanoTess was created as a Social Enterprise to support everyone who needs it."
As a CAN Health Network company, NanoTess will gain access to a network of real-world environments to apply its solution, receive mentorship from coaches and subject matter experts, and receive guidance on navigating the health care marketplace to collaborate towards scaling and procurement.
"We are extremely excited to be working with NanoTess," says Dr. Dante Morra, Chair, CAN Health Network. "It will be incredible to see what this Canadian-made solution can do for patients and for health care operators in our Network."
Third party reviewers have found NanoSALV to be a unique product in the wound care market, as its real-world data demonstrates that it provides both infection protection (without harming the wound) and healing facilitation effects. Health care workers and patients' feedback has been extremely positive "as it is not just another patch that does not fit a wound" or "an antimicrobial dressing that if not monitored properly tends to harm the wound like silver dressings."
The technology is designed to seamlessly integrate with standard of care and support remote or low mobility populations. "We believe chronic wounds is just the start of the support we can provide to health care workers across Canada, as physicians and patients have seen benefit on other fronts like: post surgical wounds, burns, and many other dermatological and topical infection challenges" – Megan Leslie CEO, NanoTess.
Sign up for email
Error: Contact form not found.