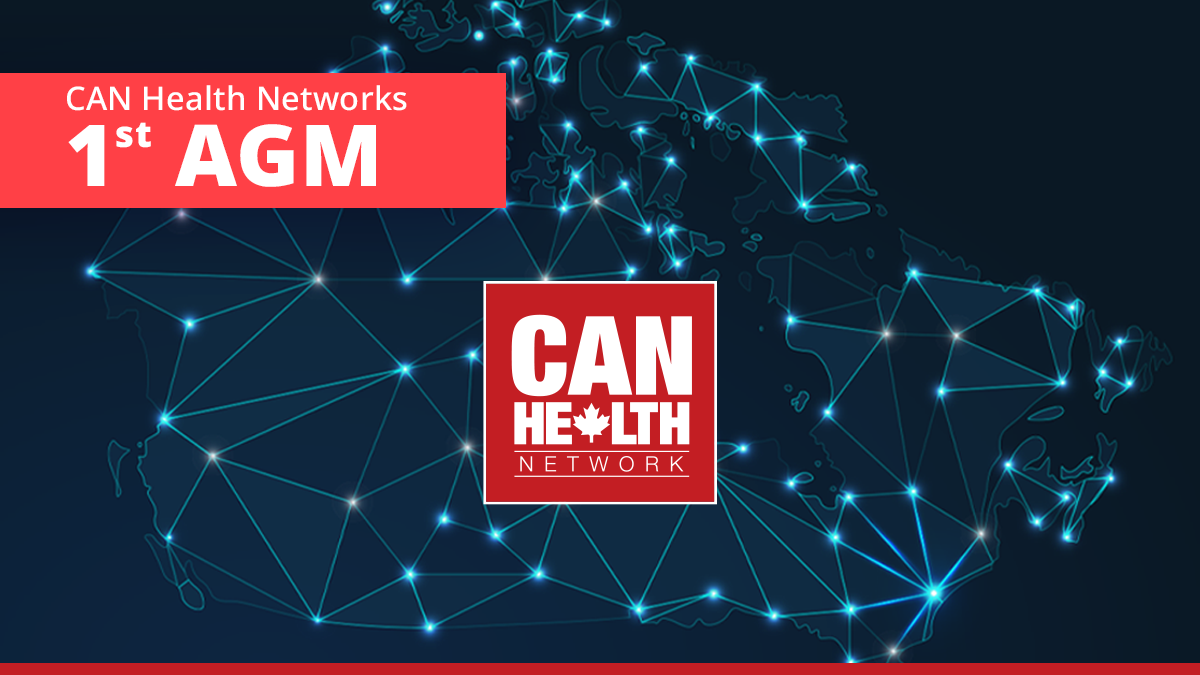 October 1, 2020 (Mississauga, ON) – More than 190 leaders, including 27 CEOs in health care and technology came together today at the Coordinated Accessible National (CAN) Health Network's first Annual General Meeting to discuss how Canada can lead the new health care economy. In a under a year, the CAN Health Network has funded 17 commercialization projects, helping Canadian technology companies break through barriers and gain access to the health care ecosystem, accelerating sales, and scaling businesses faster to compete on the international stage.
Building off the tone set by opening speaker Fred Fox's (brother of iconic Canadian, Terry Fox) words around drive and determination, participants at the virtual meeting shared ideas and identified opportunities to work together to facilitate change and position Canada as a leader in the health care landscape.
"The CAN Health Network ensures Canada remains on the cutting-edge of health care technology by helping our innovative businesses in the health tech sector grow and export their made-in-Canada solutions – especially during a time of a global health crisis," said Honourable Mary Ng, Minister of Small Business, Export Promotion and International Trade, who also spoke at the meeting. "I look forward to seeing further growth for this integrated market, which will ensure even more Canadians have access to the support and high quality care that they need."
In addition to the numerous commercialization projects currently in various stages of development, the first major success came earlier this year when Prism Eye Institute, a member of the CAN Health Network and the largest vision care clinic in Canada, partnered with Alberta-based EZ Referral to move from the traditional fax referral system to a digital one. Building on the success of the project, EZ Referral was able to rapidly scale across four vision care clinics in Ontario and Newfoundland and Labrador and a large California-based eye clinic with 12 locations throughout the state.
"It is a perfect example of the power the CAN Health Network provides," said Dr. Dante Morra, Chair, CAN Health Network. "By partnering health care organization with Canadian companies providing home grown solutions to their greatest challenges, health systems and companies are able to problem solve together to deliver the right tools, cost savings and a more efficient health care system, and ultimately, contributing to Canada's economic prosperity."
Since the onset of the global pandemic, it has never been clearer that the economy and health of our country are inextricably linked and interdependent. As Canadian businesses are feeling the impact of the pandemic, there is a tremendous opportunity to lead the renewal of our economy through a more integrated approach that supports companies on the cusp of growth and expansion.
The CAN Health Network was created to address the barriers between supply and demand for innovative health technology solutions in Canada. Health care organizations in the Network, known as Edges, give companies access and support to develop solutions that, once proven successful, other members in the Network can purchase.
This creates market access across Canada for companies, and incentivises and reduces the risk for health care organizations in adopting new technologies.
COVID-19 has forced health care organizations across the country to move to digital solutions and virtual care to ensure that safe, high quality care can still be delivered. The CAN Health Network wants to see Canadian companies as the solution of choice for health care providers, and to grow Canadian companies in every region.
Sign up for email
Error: Contact form not found.