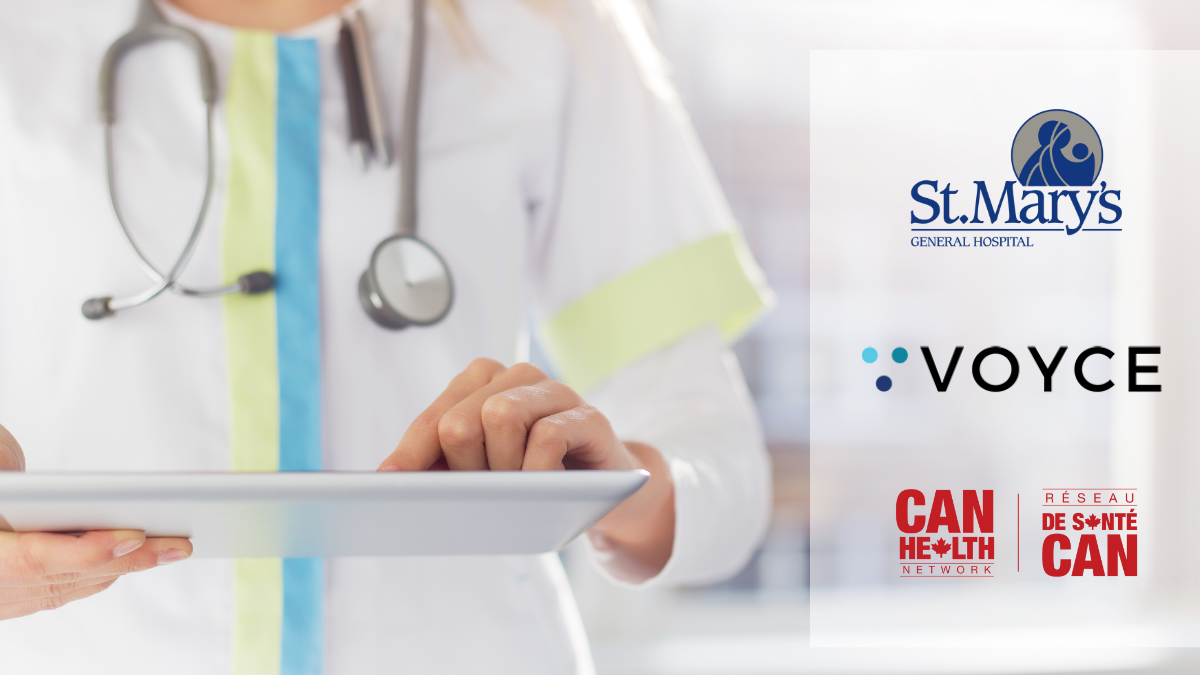 Accessing live interpreters in seconds
July 21, 2022 (Toronto, Ontario) – Canadian technology company, Voyce Canada, is rapidly breaking down language barriers within health-care organizations across the country.
In support of improving care with better communication, Voyce Canada recently partnered with St. Mary's General Hospital (St. Mary's) on a commercialization project funded by the Coordinated Accessible National (CAN) Health Network to provide a service that brings live interpreters into health-care settings in seconds.
Located in Waterloo Region, St. Mary's identified that its diverse patient population was facing language barriers, impacting the ability to deliver timely and equitable care. Its traditional over-the-phone interpretation service provider was limited in the languages it offered, was slow to connect, inconvenient, and costly.
As a CAN Health Network Edge (the term used for health-care operators in the Network), St. Mary's was able to bring these challenges forward and receive funding to launch a commercialization project, a three month to one year process that embeds a qualified Canadian company within an Edge to solve a specific issue, providing them access to a real-world environment to apply and tailor their solution.
Voyce Canada is a technology-driven company providing live, on-demand, Personal Health Information Protection Act (PHIPA)-compliant language interpretation in over 240 languages and dialects, including American Sign Language (ASL) and Indigenous languages Cree and Ojibwe.
Using Voyce Canada's technology throughout the project, St. Mary's over 1600 physicians and staff could simply select their preferred language on a tablet or other mobile device, and connect with a medically trained interpreter, often in 20 seconds or less. This cost-efficient solution offers patients a choice between a male or female interpreter and, through video, allows for better interpretation through gestures and facial expressions.
At project completion, purchasing the solution was a no brainer for St. Mary's. They were overwhelmed by positive feedback by clinical staff.
"This was one of the easiest projects I have ever rolled out in 20 plus years," says Danny Veniott, Project Innovation Lead, at St. Mary's General Hospital. "We gained 100% satisfaction from patients, and over 90% satisfaction from staff."
Since completing the project, Voyce Canada has become a validated solution in the CAN Health Network and is working with other members including Grand River Hospital and SterileCare to implement its technology.
"The CAN Health Network model supports the growth of Canadian companies by de-risking the procurement process and making it easier for domestic health-care providers, like St. Mary's, to adopt innovative homegrown solutions," says Dr. Dante Morra, Chair of the CAN Health Network.
In addition to its success within the Network, Voyce Canada recently announced its partnership with Ottawa-based CHEO, the first pediatric hospital in Canada to use the solution, as well as its work with Alberta Medical Imaging clinics.
"Partnering with St. Mary's and the CAN Health Network gave Voyce Canada a valuable opportunity to continue offering patients across Canada a simple and reliable solution that bridges language and cultural barriers to instantly give them a voice in their health-care," says Andrew Royce, CEO of Voyce Canada. "There is nothing more personal to any of us than our health, and no matter where in the world a person is from, we want them to feel at home when seeking care."
In reflection of their rapid success, CAN Health Network partner Communitech recently welcomed Voyce Canada to Team True North, a roster of Canadian innovation companies that represent the one per cent of highest-performing global private companies in Canada. Along with Voyce Canada, two other CAN Health Network companies made the list.
-30-
ABOUT THE CAN HEALTH NETWORK
The CAN Health Network is a Canada-first approach to technology adoption. It helps break down barriers to scaling in the health-care system and provides an environment for companies to scale to their full potential. Currently operating in Ontario, Western and Atlantic Canada, the CAN Health Network was recently awarded $30 million by the Government of Canada as part of Budget 2022 to expand into Quebec, the Territories and with Indigenous Communities. To learn more about the CAN Health Network, visit https://canhealthnetwork.ca/.
ABOUT VOYCE CANADA
Voyce is a technology company deeply committed to helping people in need facing language barriers, enabling them to easily and quickly communicate and get help. Voyce's professional and qualified language interpreters provide interpretation across a variety of technology and telehealth platforms in 240 languages and dialects, including American Sign Language. Across the U.S., Canada, U.K. and globally, Voyce supports thousands of sessions a day providing language assistance to those in need.
ABOUT ST. MARY'S GENERAL HOSPITAL
Located in the heart of Kitchener, Ontario, St. Mary's is the second-largest acute care hospital in the St. Joseph's Health System and a Regional Cardiac Care Centre. We proudly serve the residents of Waterloo, Wellington County, and extend our reach to Dufferin, Grey-Bruce and beyond.
Our nearly 2,000 staff, physicians and volunteers provide excellent, compassionate care to hundreds of thousands of patients and families every year in our core areas of clinical focus:
St. Mary's core programs and services are provided at our main hospital site. Our community-based programs and services are offered at locations throughout Waterloo Region.
Learn more about Our Mission, Values & History and the future of care at St. Mary's.
Sign up for email
Error: Contact form not found.