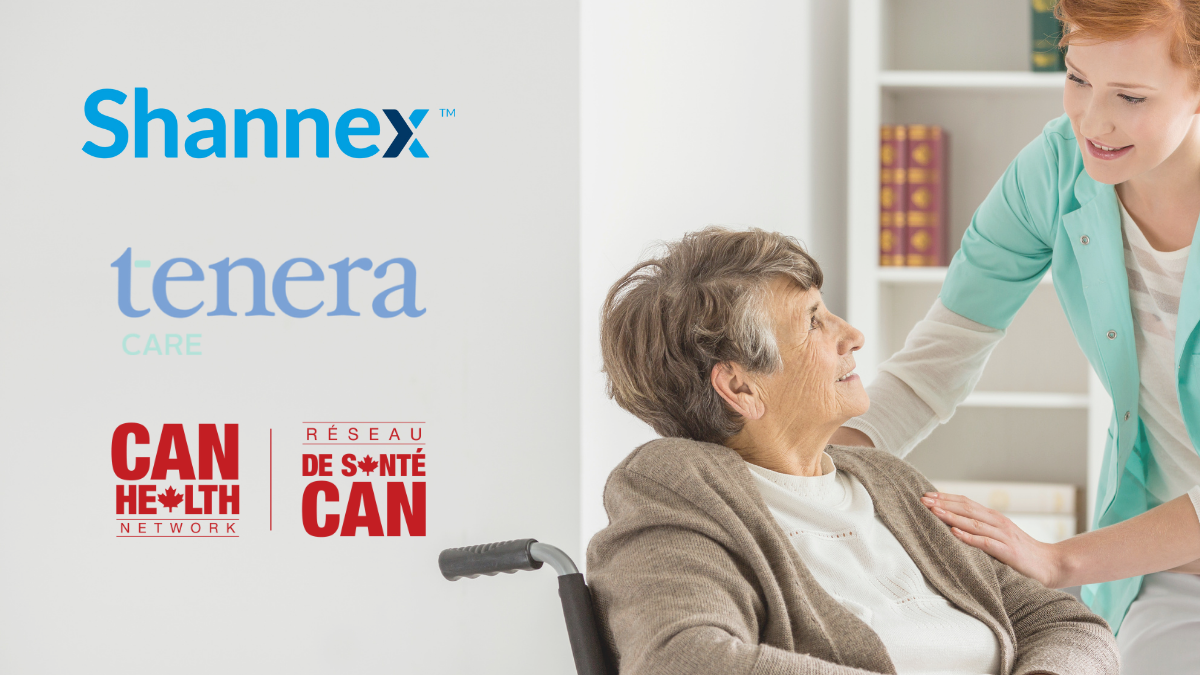 State-of-the-art new technology will help create safe and healthy senior living communities

March 3, 2022 (Halifax, Nova Scotia) – The Coordinated Accessible National (CAN) Health Network is proud to announce the launch of the Atlantic Network's first commercialization project with Shannex and Nova Scotia based technology company, Tenera Care.
Tenera Care's newest technology helps seniors live a more fulfilled and independent life. Through a commercialization project funded by CAN Health Network, Shannex will expand the implementation of Tenera Care's real-time monitoring system technology to make it accessible to more residents at its Parkland Clayton Park community in Halifax, N.S. The Tenera Care platform monitors the living environment and supports the activities of residents, their families, and team members. The system uses automated data flow to help team members react and anticipate the needs of residents which improves quality related to safety, care and service. The outcome is that seniors are able to age in place longer within the organization's continuum of services.
"We have a long history of support for the development and implementation of innovative solutions that improve the lives of seniors. We believe in making evidence-based decisions to always improve the quality of the care and service we deliver to residents so they can live fulfilled and independent lives," said Jason Shannon, President and Chief Operating Officer, Shannex. "That's why, our partnership with an innovative partner like Tenera makes so much sense. This technology helps our team members stay closely connected and responsive to the needs of our residents every day, while also providing useful data that supports our efforts to make strategic and operational improvements rooted in real-world experiences of our frontline team members."
"At Tenera Care, our vision is to make every senior living in residence in the world a safer place. The launch of this project will take us one step closer to realizing this vision and truly improving the quality of life for seniors, care staff and their families," said Stewart Hardie, CEO, Tenera Care
The commercialization project is made possible through the CAN Health Network whose mission is to introduce innovative Canadian technology solutions into health-care facilities, ultimately breaking down barriers to procurement, fostering local jobs and promoting economic prosperity. With 26 health care operators (known as Edges) in the Network, Canadian companies with solutions to health care's most pressing challenges have the opportunity to rapidly validate and scale their solutions across the country.
"The launch of CAN Health's first project in Atlantic Canada is another step towards CAN Health Network's vision of a nationally integrated market. Providing an opportunity for innovative Canada's companies like Tenera Care to enter the healthcare market, validate their solution and scale here at home is a key step in supporting Canada's economic recovery," said Dr. Dante Morra, Chair, CAN Health Network and Chief of Staff, Trillium Health Partners
In the Atlantic Provinces, the Network is led by Horizon Health Network (Horizon) and is made up of Edges in Newfoundland & Labrador, Prince Edward Island, Nova Scotia and New Brunswick.
"After our region's launch in the spring of 2021, we have hit the ground running here in the Atlantic Network, said Jennifer Sheils, Executive Lead, CAN Health Network, Atlantic Lead Edge and Vice President, Chief Information Officer, Horizon Health Network. "Working with Edges like Shannex has expedited the opportunities to bring Atlantic Canadian health innovations to the frontlines. With their partnership and the ingenuity of Tenera Care, we are proud to announce this first of many Atlantic commercialization projects."
"Our government is dedicated to helping businesses recover, rebuild and rebound from the pandemic," said the Honourable Ginette Petitpas Taylor, Minister of Official Languages and Minister responsible for the Atlantic Canada Opportunities Agency. "Investments in the CAN Health Network help nurture promising local innovative health sciences ventures. Initiatives like these position us to tackle our most pressing healthcare issues, develop solutions and stay at the forefront of healthcare innovation."
-30-
ASSOCIATED LINKS
Government of Canada provides more support to CAN Health Network
Atlantic Canada Opportunities Agency
ABOUT SHANNEX
Shannex is a family organization with a vision of Leading the Way to Better Living by providing seniors' care, service and accommodation. Beginning in 1988 with a single nursing home, we now offer a full continuum of services for seniors through our Care at Home, Parkland Retirement Living, Milestone, Faubourg du Mascaret and Shannex licensed long term care communities. Currently, we have communities in New Brunswick, Nova Scotia and Ontario, where approximately 5,000 employees provide care and service to more than 5,000 residents.
ABOUT TENERA CARE
Tenera Care exists to help families live happier, healthier and safer lives. Our platform provides reliable, modern, real-time technology to senior living facilities to monitor and analyze the health patterns and activities that impact the safety of residents and staff, reducing risk and changing behaviours you have the best possible setting to provide care to residents and better work conditions for staff.
Tenera Indoor Positioning Solution (IPS) is a fully managed cloud service that is easy to install and does not require expensive wiring or construction, minimizing disruption and impact to staff and residents during and after installation. Tenera Care creates a safer environment in your care facilities by monitoring the location of your residents, staff, visitors and assets both indoors and outdoors, detects hazardous situations and minimizes incident response time.
ABOUT CAN HEALTH
The CAN Health Network is a Canada-first approach to technology adoption. It helps break down barriers to scaling in the health care system and provides an environment for companies to scale to their full potential. Currently operating in Ontario, Western and Atlantic Canada, the CAN Health Network plans to expand into Quebec and the North. The Network has received a total of $12.45 million in funding from the Government of Canada to build a national platform that harnesses the purchasing power of health care organizations. To learn more about the CAN Health Network, visit canhealthnetwork.ca
Sign up for email
Error: Contact form not found.