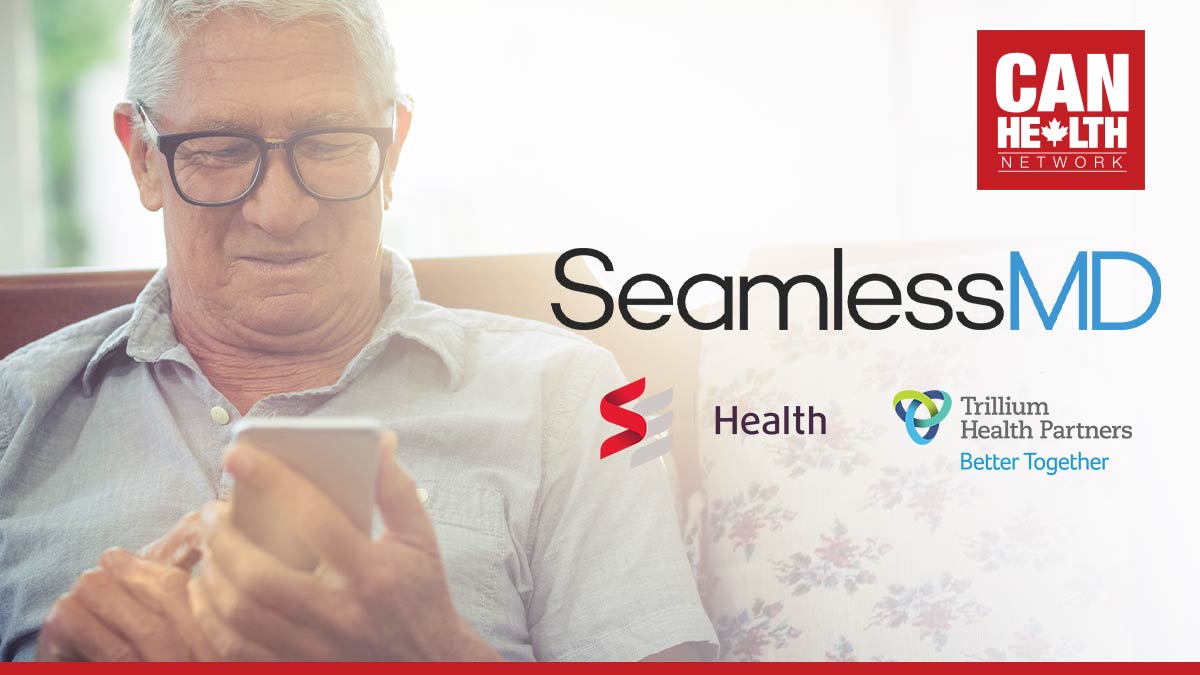 February 24, 2021 – Toronto, ON – In less than a year, SeamlessMD, a Toronto-based digital patient engagement platform, has helped two healthcare organizations support patients through surgery and homecare during the pandemic. In a timely response to COVID-19, patients at Trillium Health Partners (THP) and now SE Health are benefitting from a suite of virtual care tools, ensuring ongoing patient and community safety following a commercialization project supported through the Coordinated Accessible National (CAN) Health Network.
At THP, cardiac and orthopaedic surgery patients can access the SeamlessMD platform on their smartphones, tablets, or computers, and are guided before and after surgery with reminders, education and videos (e.g., physiotherapy exercises) to help them follow the care plan prescribed by their health care providers. When in-person pre-op education classes had to be cancelled, THP filmed the classes and delivered them to patients remotely over the platform. THP has also used the platform to collect Patient-Reported Outcomes Measures (PROMs) data for the provincial registry to better understand the impact of the clinical program on patient health and quality of life improvements.
"We partnered initially with SeamlessMD to support our orthopedic and cardiac surgery patients with a single point of access to care information that would help them and their caregivers prepare for surgery, support their recovery, and reduce hospital readmissions. When the pandemic started, digital patient engagement became the safest and most important way to engage and support patients in meeting those goals," explains Angela Rea-Mahoney, Project Director for Bundled Care at Trillium Health Partners. "SeamlessMD has been an essential virtual care tool through the pandemic, and patients like it."
THP is now expanding the use of SeamlessMD beyond English to other languages (French, Arabic, Punjabi, Polish and Spanish) to further increase patient accessibility in Peel Region.
SE Health, a leading home care provider in Canada, encourages their clients to access SeamlessMD for education. They have also partnered with SeamlessMD to provide a virtual COVID-19 screening tool for employers that assists with next-steps decision making (based on screening results).
"SE Health is committed to ensuring that our clients live their best lives through better access to information that will help guide their healthcare needs," says Mary Lou Ackerman, Vice President, Innovation and Digital Health, SE Health. "As an Edge in the CAN Health Network, we're excited to continue exchanging learnings that will support this, with the CAN Health Network as a key enabler to the adoption of new technologies within the health ecosystem."
The project is funded in part by the CAN Health Ontario Network, with support from the Federal Economic Development Agency for Southern Ontario (FedDev Ontario). The CAN Health Network provides support for innovative Canadian technologies offering solutions for our healthcare system. By working with Network members, including health care organizations (Edges) and technology companies, SeamlessMD was able to build on the success of the THP project to scale to another Edge. The company continues to work with other healthcare organizations in the network to deliver digital pre and post-surgery care during COVID-19.
"The support and insights we've received from CAN Health Network has been invaluable. We're thrilled to continue serving patients and the community across the network to stay safe during the COVID-19 pandemic," shares Dr. Joshua Liu, CEO at SeamlessMD.
"We are very proud of Canadian organizations like the CAN Health Network and SeamlessMD that are answering the call to action to provide critical support Canadians during this fight against COVID-19," said the Honourable Mélanie Joly, Minister of Economic Development and Official Languages and Minister responsible for the Federal Economic Development Agency for Southern Ontario. "This initiative will provide virtual support for patients who have undergone surgery and are in need of homecare during the pandemic, creating better health outcomes for Canadians, while supporting the economy with homegrown innovations."
"The goal of the CAN Health Network is that other health care organizations will purchase technology after it has been tested by one of our Edges, allowing for rapid sales and scaling of made in Canada technology," shares Dr. Dante Morra, Chair of CAN Health Network and Chief of Staff at Trillium Health Partners.
About SeamlessMD
SeamlessMD provides the #1 digital patient engagement platform used by hospitals and health systems to elevate the patient experience, improve outcomes and lower costs. Patients access digital care plans on their smartphones, tablets or computers and are guided through their health conditions or treatments via reminders, education and progress tracking. Providers receive alerts, monitor patients and access analytics to deliver better care. SeamlessMD is directly integrated with Epic and Cerner. Health systems such as Trillium Health Partners, SE Health and Sunnybrook use SeamlessMD to improve patient satisfaction while reducing hospital length of stay, readmissions, and costs.
For more information and to see SeamlessMD in action, please visit: www.seamless.md
About CAN Health Network
The CAN Health Network is a Canada-first approach to technology adoption. It helps break down barriers to scaling in the healthcare system and provides an environment for companies to scale to their full potential. The CAN Health Ontario Network was created in July 2019 with a $3.5-million investment from the Federal Economic Development Agency for Southern Ontario (FedDev Ontario). The CAN Health West Network also received an investment of $3.5 million from the Western Economic Diversification Canada (WD). The Network plans to expand to the East, Quebec and the North in the future. To learn more about the CAN Health Network, visit www.canhealthnetwork.ca.
For more information contact:
Alexis Fung Fook
Manager, Communications & Marketing
CAN Health Network
T: 416-300-2674
[email protected]
Sign up for email
Error: Contact form not found.